Nick Carter Has Been Accused Of Rape, And The Details Are Horrifying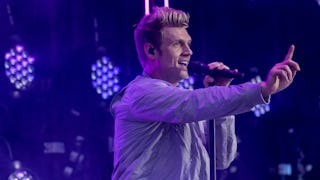 Image via Billie Weiss/Boston Red Sox/Getty Images
Carter was also accused of sexual assault in 2006
Since the Harvey Weinstein story broke with dozens of women claiming the producer sexually assaulted them, it's been weeks of a near-constant flood of headlines telling the stories of the women (and men) who have accused one powerful famous person after another of sexual assault and misconduct.
And the accusations are still coming fast, with a new one nearly every day. Today's disturbing headline? The Backstreet Boys' Nick Carter has been accused of rape.
It's not even the first time. Carter was actually investigated by the police in 2006 for allegedly forcing a fan to perform oral sex on him at a party. But we don't remember that — 2006 was before we paid attention to things like this. Before we listened to victims. Before there were so many women accusing dozens of powerful men and their sheer numbers meant we had to listen.
This time, amid the flood of "Me too's," Melissa Schuman, a recording artist who worked with Carter early in her career, wrote on her blog a detailed account of a time when she was only 18, and she says Carter raped her in his apartment. The post is absolutely harrowing.
Schuman says Carter first expressed romantic interest in her at the very beginning of her career, when she was just a teenager with a boyfriend. Carter arranged a phone call with her through her label. She took it to be polite, but turned him down. Then, years later, she and Carter were cast together in a movie. This time she was single. When he invited her to his apartment, she accepted.
Schuman alleges that Carter pulled her into a bathroom and performed oral sex on her, despite her telling him she didn't want him to.
"He told me, 'don't worry. I won't tell anybody,'" she wrote. "I told him thats not why I didn't want to do it. He took off my pants anyway and then proceeded to perform oral sex on me. I told him to stop, but he didn't. So I turned off the bathroom light so I wouldn't see anything. He kept turning the light back on because he told me he wanted to look at me. I remember thinking at that point that maybe after this he will just stop, but he didn't."
Afterward, Schuman says, Carter insisted she return the favor. He then took her into his bedroom and raped her, she claims.
"He threw me on the bed and climbed on top of me," she wrote. "Again, I told him that I was a virgin and I didn't want to have sex. I told him that I was saving myself for my future husband. I said it over and over again. He whispered in my ear as to entice me, 'I could be your husband.'"
Schuman, like so many of the others who have come forward, has been getting a lot of support on social media. It's at least heartening that we're believing victims and building them up, rather than reinforcing the rape culture that has silenced them for so long.
Still, it's impossible not to wonder when this will all end. How many men are still to come? How many gut wrenching stories do we still have yet to hear?
Carter released a statement to E! News that he is "shocked and saddened" by the allegations.