Volunteers Create Adorable Halloween Costumes For NICU Babies
by Jerriann Sullivan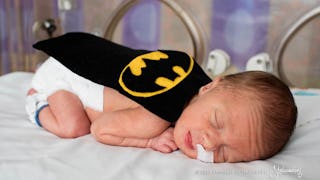 Image via Emmalee Schaumburg Photography/March of Dimes
March of Dimes organizes costume photo event for parents
A newborn's time in the neonatal intensive care unit can be terrifying for parents, which is why the March of Dimes creates special holiday memories for preemies every year. Custom Halloween costumes are made for the preemies, and professional photographs are taken for the parents. Even if Halloween isn't your favorite holiday, these special babies will get you in the spirit.
"Every day a child is in the NICU can be frightening and uncertain, but holidays are especially tough, as families miss the normal joys of celebrations at home," explained Rebecca Keunen, March of Dimes/ NICU Family Support Coordinator. "Baby's first Halloween is a day they'll want to remember and celebrate and March of Dimes is here with them at Saint Luke's to help."
This isn't the first year the hospital decked out its tiniest and most precious patients in adorable costumes, and it's a special tradition we're glad to see continuing on.
These tiny babies are at Saint Luke's Hospital in Kansas City, where their parents also spend most of their time waiting for their little ones to heal and grow. NICU babies can be born too small or too soon or have a medical condition. Through funding from the March of Dimes, the NICU Family Support program offers crucial help to parents as well as doctors and nurses who work in the unit every day.
Volunteers for the March of Dimes created the adorable hand-made superhero costumes as well as classic favorites like butterflies and ladybugs. Some of the baby girls even had special headbands to match their fancy new costumes. Professional photographers took lots of photos of the tiny babies and their parents so families could capture the bright spot in what is typically a chaotic and stressful period.
"Babies born premature (before 37 weeks of pregnancy), even born just a few weeks too soon, can face serious health challenges and are at risk for lifelong disabilities including breathing problems, vision loss, cerebral palsy, and intellectual delays," the March of Dimes shared. "In the United States, about 380,000 babies are born too soon each year – that's 1 in 10."
Those numbers are staggering but imagine being the parents who have to live it.
Sleeping in a hospital chair when your body hasn't even recovered from childbirth while worrying nonstop about your newborn just scratches the surface when it comes to the things moms of NICU babies have to handle. So we're sure the burst of Halloween joy was very much appreciated at Saint Luke's Hospital.
And while most of the babies were working hard at resting and growing, a few smiles from these little trick or treaters were captured and are beyond cute.