NICU Moms Have A Special Bond, And We Need Each Other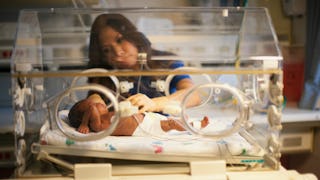 ERproductions Ltd / Getty Images
I reached out when she pulled back the curtain separating the families, a pretend sense of privacy. I heard it all through the colostrum-colored curtain: the fear, the blame, the sense of total confusion and despair. "I'm not leaving here without her," she cried to her husband who had been in the room for hours before her, hours before she knew if she had a boy or a girl.
They are the same words I've said to myself, words every mother here has said. They are words that we don't have control over. We have to leave. We have to leave our babies behind and go back to our room, our home, a borrowed couch, but we can't stay here.
I reached out to that mother and father, new parents delighted to have welcomed their bundle into the world. I congratulated them and reminded them that she was perfect despite a machine pumping air into her lungs because she just wasn't strong enough yet. That she was beautiful despite the cords and leads running to a monitor that was brightly lit with colors and numbers they didn't understand, a screen I was familiar with and understood like a parent shouldn't have to.
I told them not to worry. That she was safe, and they would get to hold her soon. That it wouldn't be long, but it would feel like eternity. I looked softly into the mother's sorrowful eyes and told her to rest, to eat, and I told her congratulations again.
I reminded myself how utterly terrified I was when I entered this unit, this place with beeps and blips and red lights and machines that help these tiny bodies breathe. I remembered how I had no idea why this was happening to me and wondering what I did wrong to deserve this torture of looking at my newborn through plexiglass, putting my hand through a porthole like you do at a zoo, to touch the skin of my child who came too soon. I remember being told that I couldn't stroke her skin or kiss her head, that it would hurt her, scare her, things I never want to do to the person I carried inside me.
The next day, I listened to the tears and the sobs that she attempted to muffle through that false privacy curtain. I hung my head and listened, not wanting to break the unspoken rule that we don't talk through that curtain. She is scared; it doesn't make sense to her or me or the other moms in beds 1, 4, 5, and 6. We don't know why we are here, what we did wrong, what we did to deserve this.
We listen to the sobs, and we say nothing to each other right now. We mourn the weeks of feeling kicks and rolls from the inside. We watch our babies through the plexiglass — our "wombs with a view," we joke. We sit in silence and mourn, and we pump our breasts, smiling at each other when we get an ounce, being thankful that we can do something for the child we can't stroke or pat, the child we have to put back into their plexiglass house after an hour of snuggles. Snuggles that we cherish as we watch 17 milliliters of our milk enter their bodies, not by mouth but by a syringe we hold next to them connected to an orange tube inserted through their nose and into their tiny stomachs.
I reach out to the moms because we are the same. We are scared and tired and trying to juggle everything else outside of a locked ward where our hands crack from the soap and sanitizer. We feel alone.
Despite the support of our partners, families, and friends, we carry the weight of doubt and guilt alone: Did I do something that caused this? Should I have eaten more leafy greens, less Nutella? Is it the multivitamin I missed that Tuesday seven weeks ago? Did I wrong someone who cast a spell on me? We want a reason. We want an answer that we will never get. It is something no one can provide — no matter how much we beg and plead, these are questions that will always be unanswered.
We are NICU moms. No one else will understand, no matter how they try. No matter their intentions, they cannot understand the brain and heart power that goes into having your baby live in a plexiglas womb while you question why yours wasn't good enough.
We will share the newborn smell of sanitizer, plastic tubing, pumped milk, exhaustion, and so much love. We will share the joy when our not-so-newborn takes a drink by mouth. And we will share the hurt when well-intended questions of when our child will come home cut into our hearts and remind us that seeing your child in a hospital is not normal. It is not how this was supposed to be. We can share our stories of labor and delivery because term stories are different from ours.
We need to reach out. We need to be a village of moms in this ward. Our babies have caregivers outside of us and so we must be the caregivers for each other.
This article was originally published on