Nike's 'Dream Crazier' Ad Is A Breathtaking Ode To Women
by Julie Scagell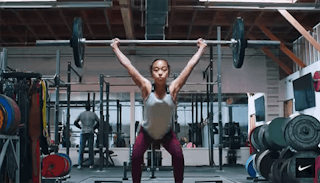 Image via YouTube
A new Nike ad featuring tennis phenom Serena Williams debuted during last night's Oscars
During last night's Oscars, one commercial seemed to capture everyone's attention as much as the gorgeous dresses, awards, and performances (can you say Gaga and Cooper 4ever?). Not just because it was narrated by the fabulous Serena Williams, but for its message about empowering women and girls.
The greatest athlete of all time, mom of Alexis Olympia, and all-around badass narrated (and appeared in) the latest Nike ad, a follow up from the powerful commercial they released late last year starring Colin Kaepernick. The ad that premiered during the ceremony paid homage to some equally badass women including gymnast Simone Biles, fencer Ibtihaj Muhammad, Chloe Kim, and members of the US Women's National Soccer Team. Of course, Williams herself also starred because you can't have an ad about history-making women in sports without her.
The ad, titled "Dream Crazier," takes all the phrases used about women in sports — emotional, dramatic, delusional, and especially "crazy" — and throws those stereotypes back in the face of anyone who's ever uttered the words.
"If we show emotion, we're called dramatic," Williams says. "If we want to play against men, we're nuts. And if we dream of equal opportunity, we're delusional. When we stand for something, we're unhinged. When we're too good, there's something wrong with us. And if we get angry, we're hysterical, irrational, or just being crazy."
The ad is part of a larger effort by Nike to highlight women's achievements in sports. According to ABC News, Williams, skier Picabo Street, and professional volleyball player Gabby Reece are part of the campaign, which will include additional TV ads, a New York City billboard starring Williams, and a website with more videos and "space for women to share their sports stories."
The sporting giant is also giving $425,000 in cash and equipment for the Let Me Play Fund, an organization which will offer grants for equipment and uniforms for women's sports.
Williams got several subtle jabs in to respond to the years of criticism she's received during her career. In 2018, she was penalized and fined for showing emotion during the U.S. Open final against Naomi Osaka, and was accused of "verbal abuse" toward a chair umpire — all things male athletes have gotten away with in years past. But, you know, she's the "crazy" one.
"Turns out, people said it was crazy for women to run marathons, box, dunk, coach an NBA team, compete in a hijab, land a double cork 1080," Williams continued in the ad. "Or win 23 grand slams, have a baby, and then come back for more."
"The use of Serena Williams as the narrator amongst a number of athletes reflects her standing as one of the most inspirational athletes of her generation who empowers girls to continue to believe in their own crazy dream," a Nike representative said. With eight Grand Slam titles and being named No. 1 in the world in singles on eight separate occasions between 2002 and 2017, she seems like exactly the right choice.
The bottom line according to Williams? "If they want to call you crazy, fine. Show them what crazy can do."