Nike Made Hands-Free Sneakers And Yes, Please
by Christina Marfice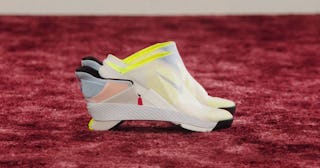 Nike
These new Nike sneakers will be game-changers for those who can't put on shoes without assistance
The world is full of people who have different levels of mobility and different physical abilities. Among those are many who, for a whole slew of reasons, need assistance to put on and take off traditional, laced shoes. Now, a new style of sneaker from Nike is going to be a game-changer for those who need hands-free shoes.
Called Go Flyease, these sneakers are Nike's first pair of laceless shoes that are "easy on, easy off," meaning they can be easily put on and taken off without using your hands. They feature a unique and proprietary hinged design that leaves the shoe "open" until you step into it and snap the sole into place, closing it securely around your foot. To take it off, you just step on the heel to re-open the hinge. It's kind of genius. Actually, it's really genius.
"It's intuitive — easy on, easy off — and evidence of how design, innovation and engineering can meet to answer an ambitious North Star: the creation of a hands-free shoe," the press release reads.
The shoes have the endorsement of Bebe Vio, an Italian wheelchair fencer who is a spokesperson for Nike's new design, which it calls "accessible and empowering."
"Usually I spend so much time to get in my shoes," Vio said in the press release. "With the Nike GO FlyEase, I just need to put my feet in and jump on it. The shoes are a new kind of technology, not only for adaptive athletes but for everyone's real life."
That includes people like students rushing to class, or parents who have their hands full, Nike said.
What might be most important to note about the GO FlyEase shoes is that they look like any pair of Nike athletic shoes. They're not the first pair of hands-free shoes to come available, but many of the existing offerings (like Crocs) have a pretty distinctive style. These fit right in with every other pair of athletic shoes Nike offers.
They're also coming at a time when demand for hands-free shoes is super high, because of the pandemic. No one wants to touch anything unnecessarily, and that includes our shoes — arguably the dirtiest part of our wardrobe. Other hands-free shoes, like Crocs, have seen a big boost in sales in the last year. These ones give people another style to choose from.
Nike's new GO FlyEase shoes will be available online to subscribers of its free membership on Feb. 15. A broader release will come sometime later this year.
This article was originally published on