Nike Unveils The 'Pro Hijab' For Female Muslim Athletes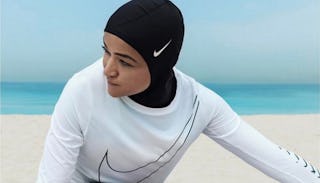 Image via Vivienne Balla/Instagram.
The 'Nike Pro Hijab' hits stores in early 2018.
After the company noticed a lack of activewear options for Muslim women, Nike decided to just do it and make its own. The "Nike Pro Hijab" hits stores in the Spring of 2018, but people are already thrilled with the company's decision to be more inclusive.
The new hijab will allow women to cover their head while working out or competing in athletic activities. Emirati figure skater Zahra Lari was spotted wearing Nike's new design in a photo series for the company that was shared on Instagram by Vivienne Balla, the photographer behind the pictures.
https://www.instagram.com/p/BRU1JZtAZjK/
"I was thrilled and a bit emotional to see Nike prototyping a Hijab," said Lari, who competed on the ice wearing a hijab. She told CNN Money: "I've tried so many different hijabs for performance, and … so few of them actually work for me." Nike took 13 months to perfect their design. "Once I put it on and took it for a spin on the ice, I was blown away by the fit and the light weight," Lari explained.
https://www.instagram.com/p/BRU1EmXgjO9/
The head cover pulls on and is made of soft, lightweight polyester. It comes in dark neutral colors but will still be opaque, which is a requirement for women who wear hijabs. The fabric also has tiny holes that make it more breathable for the female athletes who'll be sporting it next year. It comes in two sizes, XS/S and M/L, but stretch to fit a range of sizes.
We're so pumped Nike created this product. During the Rio Olympics last year, fencer Ibtihaj Muhammad was the first athlete from the United States to compete in a hijab. The new product will help millions of girls and women around the world feel good while they play, exercise, and compete in athletic competitions.
https://www.instagram.com/p/BQp549tAy9W/
"Nike's mission is to bring inspiration and innovation to all athletes," Megan Saalfeld, Global Nike spokeswoman, told Arab News. "And we're thrilled that Nike can deliver a product innovation that female athletes in the region told us they wanted and needed."