Here's The Nike Women's World Cup Ad That's Giving Everyone Chills
by Julie Scagell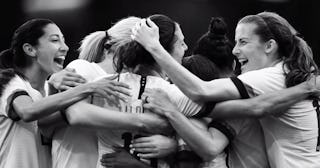 NIke/Twitter
Nike absolutely nailed their tribute to the world champion US Women's World Cup team
By now you've seen, heard, or rewatched over and over (and over) the finals of the Women's World Cup championship against the Netherlands on Sunday and know that the US team won 2-0 in a nail-biting game. In fact, they went undefeated during the Cup marking their fourth championship title. Nike released an ad hours later showing highlights of the tournament and reminding the world that women's rights are everyone's rights.
"This team wins. Everyone wins. Victory is when we all win. It's only crazy until you do it," Nike posted next to a one-minute black and white video of the women's team. They began the video with the epic chant, "I believe," and shifted quickly to a powerful and much-needed message.
"I believe that we will be four-time champions and keep winning until we not only become the best female soccer team, but the best soccer team in the world," the video continued. "And that a whole generation of girls and boys will go out and play and say things like "I want to be like [Megan Rapinoe] when I grow up."
Over one billion people tuned in to this year's Women's World Cup from all over the world, making their win even more critical in the fight for equal pay. The USWNT brought forth a gender discrimination lawsuit earlier this year claiming "purposeful gender discrimination" because they are being paid much less than the men's team, "in some cases earning just 38 percent of pay per game" according to The Atlantic.
"FIFA will pay the champion U.S. female team just $30 million for winning, as compared to the $440 million the next men's champion will take home," a team that didn't even qualify for the World Cup last year.
It seems the world agrees. Soon after the cheers died down, the crowd in Lyon began chanting "equal pay." The chant was "deafening," said New York Times' Andrew Keh. For those who say "well if they brought in as much money, they'd receive equal pay" would be wrong. From 2016 to 2018, women's soccer games generated some $50.8 million in revenue compared to the $49.9 million brought in by the men's games, according to the Wall Street Journal.
Nike's video continued with more on-point messaging about the power of inspiring the girls of today into the women of tomorrow who will stand up and fight — for their voices to be heard, for equal treatment in their professions, so that eventually we won't need to fight anymore.
The commercial explains that the USWNT has served as an inspiration for young people all over the world, urging that "women will conquer more than just the soccer field." The ad ends with a message of solidarity, one every single person — not just woman — should understand. "This team wins. Everyone wins."