Nintendo's N64 Classic Is Coming Back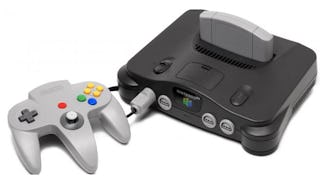 Image via Nintendo
Night night kids, it's mama's turn to shine
If you're a parent of children of a certain age, you've lived, breathed, and likely sworn at the video game Fortnite. We get frustrated our kids want to play incessantly, scream at the TV or computer screens, and seemingly have turned into zombies incapable of hearing us call them for dinner. But, as the old saying goes, "if you can't beat 'em, join 'em" and oh baby, we will be because a Nintendo 64 Classic Edition is about to drop this month and our inner kid is about to lose their damn minds.
A leak was initially reported by Gaming INTEL and the official announcement will supposedly come at the Nintendo Direct press conference later this month. "Here at Gaming INTEL we have received some leaked information from another anonymous tipster about information on the N64 Classic Edition," they said. "Although this particular tipster has never been tested before by us, we strongly believe this information to be true and our other insiders have had no reason to repute it. The information provided to us does add up with other rumours we've heard."
And if you are all, who are these Gaming INTEL folks and who are they to get our hopes up — breathe — according to the company, "we have now provided correct dates for the last 3 Nintendo Direct's before they were announced along with other correct information and leaks." So, there.
News of a new version of the hit 90s console has been circulating for over a year, only recently followed with a possible leak of what the N64 Classic could look like but fans have been anxiously awaiting an actual release date.
According to i4U News, over 32 million N64 units have been sold worldwide since its release. Personally, I've played 14,000 games of Super Mario Bros in my youth and I'm not gonna lie, I slayed. If these rumors are true, this will be the one and only Christmas present I ask for this year. I will then sit my kids down, give them zero instructions, press play, and crush them like grapes.
If the N64 Classic does come soon, it will end up going head-to-head with Sony's PlayStation Classic for most sought-after holiday present of 2018 by kids and adults, alike. And with Gaming INTEL also receiving leaks of five of the possible 30 games available, it's impossible not to get our hopes up: The Legend of Zelda: Ocarina of Time, Super Mario 64, The Legend of Zelda: Majora's Mask, Puyo Puyo Sun 64 (may not be on all versions), and Banjo-Kazooie.
Someone hold me.
This article was originally published on