We're Doing A 'No Toy' Christmas This Year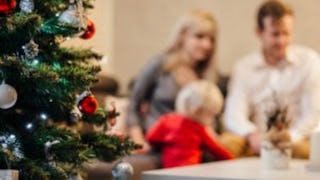 Ashley Gillis
The amount of toys that my 19-month-old child has acquired is ridiculous. Every room in our home has toys — whether it be the stuffed animals in our living room, the play kitchen in the kitchen, or the toys she has left in the guest bedroom — they are literally everywhere.
She has so many toys, she doesn't even notice when they are missing. She's overwhelmed with toys. It takes every fiber of my being not to toss them on a daily basis. And this is why my child is having a "No Toy Christmas" this year.
I Am No Scrooge
The truth is, I love Christmas, Santa Claus, giving gifts to those you love, traditions, Christmas Eve Mass. The whole season is a magical time of year.
And I want to preserve that by not overdoing it with gifts.
I don't have any intention of being Scrooge. I don't like calling up family members and sending email reminders about the fact that my child is barred from receiving toys this year, but it has gotten that bad.
Her toy box is a volcano of toys — some that have never been touched. Her room has more toys in it, and we rarely play in her room. To be honest, my child spends more time playing in my Tupperware drawer than playing with her actual toys. It's so ironic I have to laugh.
That is why I don't want our friends and family spending their hard-earned money on more toys that my child won't play with.
Instead of Toys
To be honest, instead of getting my child more toys — excuse my French, but crap — that they have no interest in, get them something that is more meaningful.
Some ideas for a "No Toy Christmas" are:
– A pass to the aquarium where we can take our kids to walk around. We can learn about fish, enjoy the trails, and spend time as a family. Heck, maybe you can even take them by yourself one day and give me and their dad a break.
– I will never complain about books or other educational gifts. My little girl loves Angelina Ballerina or anything Elmo is a hit. I also swear by these flash cards I used to help my daughter learn her words.
– Movies. Classic Disney movies are always a favorite and will stand the test of time. Some on our list this year are Beauty and the Beast, The Princess and the Frog, and the Lion King.
– Clothes always go over well with Mom and Dad! Kids go through them like water, so you can never have too many.
– I will never say no to things my kids can play with outside. Whether it be a bike, a wagon, chalk, or a water table, all of it will be used and well-loved.
But most importantly, make memories with my kids. They aren't going to remember the toys you buy them, but they will remember the memories you made. They'll remember how Nana came every year to take my daughter to the Nutcracker, the time you got them tickets to a theme park and took them for an adventure, or the baseball game you went to. These are the things that last a lifetime, not material objects.
This Christmas
I don't want my children growing up with an overabundance of toys. But I do want them to grow up with an overabundance of love and memories.
Instead of rushing out to buy a bunch of toys to stuff under the tree this year, I will be ensuring that my child has the things they need and memories to last.
So, while we put out cookies for Santa, hang our stockings by the chimney with care, and read The Nightmare Before Christmas, I can't wait for my daughter to have her second Christmas. But what I am most excited about is my daughter receiving gifts that will last a lifetime in the form of memories, books, and adventures to come.
This article was originally published on