Middle School Shooting Today Makes It The 23rd This Year
by Valerie Williams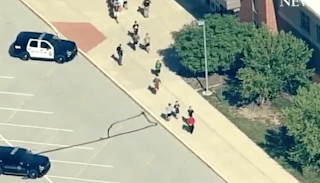 Image via ABC News/Facebook
A middle school in Indiana was the site of our nation's latest school shooting
A middle school boy allegedly opened fire at an Indiana middle school this morning making it the 23rd school shooting in 2018. A teacher and student were injured and have been taken to the hospital. The shooter is in custody.
The shooting took place at Noblesville West Middle School and according to Noblesville Police, was reported just after 9:00 AM, ABC News reports.
The video shows police leading students to school buses in order to evacuate the scene. Indiana State Police spokesman Sgt. John Perrine says the victims' families have been notified.
During a press conference, Police Chief Kevin Jowitt says there was "a secondary threat" also made at Noblesville High School, but so far, there's no evidence that it's anything more than a threat.
"We have not received any information that this has been anything other than a communicated threat," Jowitt said. "We are securing the high school and taking steps to make sure that it stays secure."
A student interviewed shortly after the tragedy says she wasn't surprised and "had a feeling it would happen eventually….as soon as we got the code yellow, I knew that's what was going on."
Parents were waiting outside the high school to be reunited with their kids who were being transported from the scene by bus.
This makes for an average of one shooting each week in an American school this year — and we're not even halfway through 2018. It's only been a week since the massacre at Santa Fe High School that took 10 lives and injured another 13 people, but here we are again.
How many more will it be before something is done to stop it?
This article was originally published on