There's A Fourth Vaccine In The Works — Here's What You Need To Know
by Elaine Roth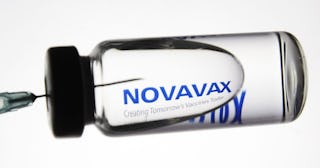 Pavlo Gonchar/SOPA Images/LightRocket/Getty
Almost exactly one year ago, infections caused by the novel coronavirus began appearing with some frequency in parts of the country. The words quarantine, lockdown, and pandemic still belonged solely in sci-fi movies. And the majority of us had no idea that our homes would function as classrooms, offices, gyms, and, in some cases, makeshift salons.
Almost exactly one year ago today, a vaccine to defeat this novel coronavirus infection that hadn't even upended our lives yet was barely whispered about. It was maybe little more than a gleam in some scientist's eye.
And now, almost a year later, thanks to the marvels of modern day science, we have two vaccines approved for emergency use (Pfizer and Moderna), one vaccine which just received emergency use approval (Johnson & Johnson), and even a potential fourth on the way.
The fourth comes from a small biotech company in Maryland named Novavax. Dr. Gregory Glenn, president of Research and Development at Novavax discussed the vaccine that has been called a "formidable underdog" in the race to vaccinate the globe in a live interview with the Washington Post.
The Novavax Vaccine Has A High Efficacy
Clinical trials have shown that the Novavax vaccine has an average efficacy of 89%. That number is spectacular considering earlier in the year, experts were hoping the vaccines would reach an efficacy hovering around 50%.
It's even more spectacular when that average is subdivided to account for variants.
Researchers subdivided that 89% and looked at the Novavax vaccine against what Glenn called "the prototype virus," which was similar to what had evolved from Wuhan. Against only the prototype virus, which is what Pfizer and Moderna tested their vaccines against, the Novavax vaccine had an efficacy of 96%.
The Novavax Vaccine Has Shown Efficacy Against The Variants
The Novavax vaccine is among the first of the vaccines to demonstrate clinical efficacy against the original and both the U.K. and South Africa variants.
Novavax conducted its clinical trials not only in the U.S., but in South Africa and the U.K.—where two of the most talked about variants originated. Dr. Glenn observed that the virus "evolved right in the middle of our trials. So that change allowed us to assess how well our vaccine works against the strain that was circulating mostly and still is in the world and a couple new strains."
In the U.K., researchers found that 50% of their volunteers encountered the prototype virus and 50% encountered the new U.K. variant. With the new variant circulating, the efficacy dropped to 86%. In South Africa, more than 90% of the virus volunteers encountered was the new strain. The efficacy in that clinical trial dropped to 60%.
This is critical information, not just for Novavax, but for the world because we see how a vaccine with a high efficacy against the prototype virus fared against this new variant.
Novavax has already started working on a vaccine to combat the South African variant and expects to begin testing soon.
The Novavax Vaccine Uses Recombinant Protein, not mRNA
Novavax's vaccine targets the spike protein, like Pfizer and Moderna. However, unlike Pfizer and Moderna, which use new mRNA technology, Novavax's vaccine uses a recombinant protein, which is a more conventional technology used widely in licensed vaccines. Novavax makes the spike protein and places it in a particle, which Glenn describes as "basically detergent or soap." When the particle is injected into the body, the immune system recognizes it as foreign and mounts a strong immune response.
Glenn says, "I would say the hallmark of this recombinant protein making the spike and the immune stimulant we add to it is that we make a very, very strong immune response to a really small amount of the protein."
The Novavax Vaccine Could Be A Gamer Changer In The Quest For Global Herd Immunity
The Novavax vaccine has a number of characteristics that make it a potential important part of the global vaccination effort. One, logistical issues that are present with other COVID vaccines are not here. The Novavax vaccine does not need to be frozen. It can be stored in refrigerators found in most pharmacies and used for other common vaccines.
And two, a very low dose of vaccine is needed to effectively immunize a person—only five micrograms. This means the cost of materials is low, and that serves to keep the cost of the vaccine down. While the vaccine is free in America, this fact becomes crucial when considering we need a global vaccination effort to return to normal.
The Novavax Vaccine Has A Good Safety Profile
According to Glenn, the side effects of the Novavax vaccines are local arm soreness and potentially feeling off for a few days.
In discussing side effects, Glenn notes, "I think compared to some of the other vaccines, it's much more muted with our vaccine, and especially in older adults really very quiet, and that's important."
According to vaccines.gov, recombinant vaccines "can also be used on almost everyone who needs them, including people with weakened immune systems and long-term health problems."
The Novavax Vaccine Will Be Available Soon, But A Date Is Not Set
Dr. Glenn was hesitant to provide a specific date on which the company would apply for emergency use authorization. In response to the question from the Washington Post, he held to his answer of during the second quarter. "What I would say is you ought to think about this as not a sprint, but it's a marathon," he said.
This past year of pandemic life has been less like a sprint and more like a long, slow slog fraught with anxiety and uncertainty. But the vaccines are here. More are coming. And hopefully, thanks to all the vaccines, we can all take a collective deep breath soon.
Information about COVID-19 is rapidly changing, and Scary Mommy is committed to providing the most recent data in our coverage. With news being updated so frequently, some of the information in this story may have changed after publication. For this reason, we are encouraging readers to use online resources from local public health departments, the Centers for Disease Control, and the World Health Organization to remain as informed as possible.
This article was originally published on