Billboard's Message Draws Protest Because It's 2017, Not 1950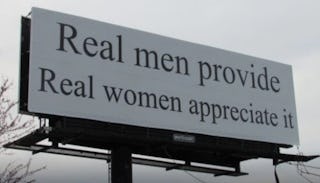 Image via Twitter
The company that paid for it is currently unknown
A sexist billboard in North Carolina is generating controversy this week, with good reason. Last we checked, it's 2017, not the 1950s, and both men and women are capable of providing for their families. This gross ad suggests otherwise, and in light of that fact, a group of local residents are protesting its message.
According to the Triad City Beat, the billboard was bought and paid for by an unknown person or company. It's located on a highway between Greensboro and Winston-Salem and belongs to Whiteheart Outdoor Advertising.
The message reads, "Real men provide. Real women appreciate it."
There's a lot to unpack here, but first, the facts.
Advertising company president Bill Whiteheart, a former Republican member of a county commission, explains why he allowed the billboard to go up. "The message is a paid message. We understand very well, I'm sure as you do, the Constitution of the United States, and it is a 'freedom of speech' type message where the parties that have paid for that advertising are conveying a heartfelt message to the public."
He also acknowledges the mysterious origins of the billboard's sponsor. "I have contacted them with regard to disclosure of their identity, and the response that I have gotten to share with you is that they will have a forthcoming announcement in the future. And other than that, that's all I'm permitted to discuss on their behalf yet."
Huh. Maybe they know how unpopular and ridiculous their words are to most modern humans and chose to remain anonymous to avoid a complete shit-show? Just spitballing here.
Whiteheart says his company doesn't accept advertising they consider in "poor taste," and feels the billboard is not out of bounds in that way.
Molly Grace, the owner of a boutique in Winston-Salem, created a Facebook event to protest the ad's message, but openly acknowledges the right for it to exist. The event page reads, "We are not protesting that the sign is capable of existing, or the people who put it up, or the ad agency, or the right to put it up. We are protesting patriarchy and sexism, and that this antiquated way of thinking about women exists at all. We are protesting the implied demand that women be silent and appreciate, regardless of whatever circumstances, their role as non-providers."
Resident Nathan Walin tells WHNT News 19, "I would assume if you had a husband that loves you and appreciates you and showed it enough to carry your family and kids, that you would appreciate it. I don't know why that would be offensive."
Well, we have a few thoughts. Just because this is one family's situation, would they truly be so naive and close-minded to think it's the only way? It's 2017. Plenty of women provide too. And real men appreciate it. In these modern times, couples have all kinds of arrangements that work for them. Not to mention, we're raising children who will one day be part of their own relationships. Is this the message we want them to see?
There are a number of ways for men and women to show they appreciate each other in the context of a partnership. A real man does what he has to for his family, including staying at home with his kids, if that's what makes the most sense. A real woman works 45 hours a week if she needs to (or wants to) and also has the freedom to stay at home, if it works for her family. There are no longer rules here. Assigning gender to these roles is not only antiquated and ridiculous, it's offensive and short-sighted.
While freedom of speech protects this ad's right to be displayed, the Constitution also protects our right to think it's completely backward and wrong, and to say so. "Real" Americans know that both men and women are capable of providing and appreciating one another for it. To suggest there's only one way is totally ignorant and damaging.
This article was originally published on