Classes Resume Hours After Student Dies In North Carolina School Shooting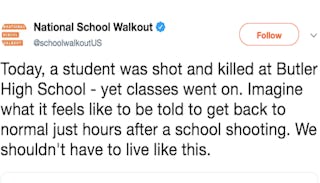 Image via Twitter/National School Walkout
Another day, another shooting at a school
If you ever needed evidence that we've become all too desensitized to school shootings in the U.S., here it is. A student was shot and killed at a high school in North Carolina, and on the same day, classes in that school were resumed.
Butler High School is located just outside Charlotte, North Carolina. Police told news outlets they responded to reports of a shooting there just before 8 a.m. The student who was shot was taken to a nearby hospital in critical condition, and later died. Another student was taken into custody, and police reportedly have possession of the gun that was used.
Butler High was on lockdown for just over an hour during the incident, which police said was "an isolated incident and the scene has now been secured." Reports say parents were notified by phone.
"Before the lockdown was lifted, dozens of parents gathered outside of the school to await word on the students. Multiple parents told local television channels that they felt confused and unsure about where to meet with their children," reported CBS News. "Video provided to CBS affiliate WNCN by a freshman student showed panic in a crowded hallways in the aftermath of the incident, with students asking to be let out of the school."
"A kid was shot, they want us to go to class," the freshman, Joshua Cherry, is heard saying in the video. "Kids are crying. It's a mess."
State Superintendent Mark Johnson released a statement. "I am heartbroken to hear that we have lost a student to school violence in one of our schools," he wrote. "We have contacted Charlotte-Mecklenburg authorities and will assist in any way we can, but of course our first thoughts are for the parents and other loved ones of the student who passed away. The safety of our students is paramount. This is a sad day for all of North Carolina, and we must work together as a community to address these problems."
CBS reported that students were seen crying as they were streaming out of the school when they were allowed to leave. Classes were held for students remaining on campus.
The Superintendent has since announced school will be closed tomorrow. "We are going to give the teachers an opportunity to process what they've been through and we will give students an opportunity to stay home with family and loved ones and come to grips with what took place today," he said.
This story has been updated with additional information provided by officials at a press conference Monday afternoon.
This article was originally published on