You Can Get A Nose Warmer Now And TBH It's Genius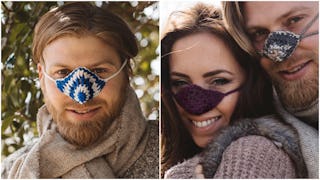 Image via the Nose Warmer Company
It's a oft-ignored appendage that suddenly has some well-deserved attention
I've started and stopped this intro a dozen times. Someone came out with a knitted nose warmer and though I want to mercilessly make So Many Jokes right now, as I'm writing this the tip of my nose is freezing which leaves me in quite a pickle, so I guess I'll just come out with it — I don't know where I'd ever wear this but I sort of want one.
The Nose Warmer Company, a U.K. company, has made quite a splash as of late, after their nose warmers made headlines around the globe. "We love warming up the nippy noses of the nation (and the world)," they say on their website but really, you need to see them to appreciate them in all their glory.
"Our business started small, with one nose warmer made specifically to do the job of warming up a nippy nose!" their site reads. "Our owner soon realized that she wasn't the only one with this problem so ….. THE NOSE WARMER COMPANY was born," said in all caps for effect, though we're pretty sure these puppies will get your attention regardless.
I mean, if you live in a cold weather state or are in a perpetual state of chilliness, these nose warmers definitely could solve a very real problem. I mean, we all love fuzzy socks for our tootsies, so why leave out an equally important appendage? You could wear this running, to outdoor football games, ice skating, or better yet in the comfort of your own living room. Alone. With no one else in the vicinity.
These snout warmers comes in a variety of styles and colors and retail for around $10 a piece. They come in fleece, faux-fur, wool, and a variety of colors so you can keep looking like a total (but toasty warm) dipshit.
They even have a Sky Blue crochet number which I initially read as "crotch" because, well, these look a bit like nose condoms.
Obviously, there are a lot of jokes to be had here, but the concept is pretty genius. Also? The nose warmers ship worldwide, so hop on it.
During an interview with BuzzFeed, Sally Steel-Jones, the owner of the company, defended the product, saying, "It looks a bit silly, you say? So do Christmas jumpers and bobble hats, but plenty of people wear those. With enough cold-nosed people out there to create a demand for the warmers, one day it might be you looking silly walking around with your red, bare nose!"
OK, pump the brakes there, Sally. No need to get defensive, these warmers are actually cute, practical, and serve a purpose. If some people don't like them, more warm sniffers for the rest of us.
This article was originally published on