I'm Nowhere Near Where I Thought I'd Be At This Age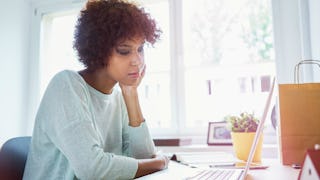 BartekSzewczyk/Getty
When I was a teenager, I had a very clear picture of what I wanted my life to look like when I was in my 30s. I was going to be married, have a solid career, and at least one kid. In my 20s, some of the specifics changed, but generally, that was still where I thought I was heading.
By my mid-20s, I was in a stable, happy relationship with a man I planned to marry, and while it was slow, I was figuring out the steps I needed to make my career goals happen. As those things started to fall into place, I figured everything else would too.
But life had other plans, and now I'm definitely nowhere near I expected I'd be at 32.
The way my life shifted in my late 20s was like a snowball effect. First I lost my job, then I found out I was pregnant. The strain on my relationship was too much, and my boyfriend and I decided I would move across the country to live with my parents so I could have help and support. Our long-distance relationship hobbled on for two and a half years, fraught with fights and other issues.
Eventually, I pulled the plug, because I was almost 30 and wanted to start the next decade of my life with a fresh slate. Being a single mom to a toddler and living with my parents was definitely not where I had envisioned my life at 30, but there I was. I told myself that I could either use it as a crutch, or use it as the springboard to catapult me forward into the life I wanted. I jumped on the springboard with both feet and never looked back.
For me, the only logical way to start to pull my life back toward the picture I had was to get my career going. If I had that stability, or at least, got close to it, then I'd have the confidence to figure out the rest of my life. Becoming a paid writer is a challenging process, and it takes a lot of hustle. But I found the opportunities that would give me the best chances to get ahead. It wasn't easy, but I made it happen.
Getting my career off the ground helped me accomplish the next big goal on my list: moving out of my parents' house. Being a 30-something single mom was bad enough, but having to do it while I lived with my parents was terrible for my mental health. I was grateful to them for taking us in when we had nowhere to go, but that was nowhere near how I pictured my life at that moment. So, I saved money and was able to not only move out of my parents' place, but to move back across the country so my son could be closer to his father.
While the professional part of my life is still taking shape, it's in a much better place than it was, and I can focus on the parts of my life that are still lacking, like romance. Real talk: I never thought I would have to put myself back into the dating pool in my early 30s. It feels like so much has changed in the almost 10 years I've been out of the dating game. Dating as a young 20-something who had a good amount of free time was hard, but let me tell you, dating as a 32-year-old single mom with very little time is really fucking hard.
As the primary parent, I have very little time away from my son. His dad works full time, and money for a babysitter is scarce, so it would mean only getting out when either my ex or a friend could babysit.
Never in my wildest dreams did I think I'd have to be starting over romantically in my early 30s. This is the time in my life when I thought I'd be settling down, and now I'm sitting here comparing the benefits of dating apps. Sometimes I find myself absentmindedly rubbing my left ring finger, painfully aware of the lack of a ring. I see my friends who are married and find myself longing for that level of connection and partnership with someone. I'll wistfully stare at the beautiful covers of wedding magazines on the checkout stand at the grocery store, my cart full of ice cream to keep me company during the night when my son is asleep.
I may be nowhere near where I thought I'd be at 32, but I'm slowly realizing that it's okay. If life in the past few years has taught me anything, it's that there is no one perfect way to get where you want to go. It would be easy for me to sit here and spout off a bunch of clichés, but why?
Sometimes it's hard to confront the reality that your life isn't turning out the way you wanted it to. There are times where it's hard to see the bigger picture because you have no idea what the fuck that is. Life will never be perfect, but it's not always the easiest thing in the world to simply "roll with the punches." You can only get punched in the face so many times before you're like, "fuck this shit, I'm done."
And usually in that moment of absolute defeat, the road you need will open up. I will just keep taking that road, and I trust that, in my own way and time, I will end up where I'm supposed to be.
This article was originally published on