NRA Is Struggling Big Time So People Are Offering Plenty Of 'Thoughts And Prayers'
by Thea Glassman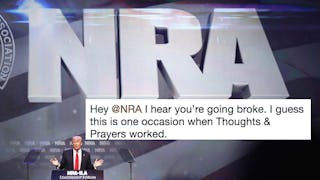 Image via Scott Olson/Getty Images/Twitter
The NRA is being trolled with thoughts and prayers after reports of financial problems
Apparently, the NRA is in some serious financial trouble. A new report from Rolling Stone says that the gun advocacy organization is struggling to stay afloat because of their legal battle with Gov. Andrew Cuomo and New York's financial regulators. People really feel for the NRA's tough situation and are offering up the very same useless "thoughts and prayers" comments that are handed out every time there's a mass shooting.
Touché, internet. Touché.
The NRA is currently embroiled in all sorts of trouble. According to Rolling Stone, the organization has accused Cuomo of leading a "blacklisting campaign" against them that has caused "tens of millions of dollars in damages." They've lost their insurance, which means that they cannot hold off-site meetings, rallies, educational programs, and assemblies. They might be even be forced to stop the circulation of various print publications and magazines.
"The NRA's inability to obtain insurance in connection with media liability raises risks that are especially acute; if insurers remain afraid to transact with the NRA, there is a substantial risk that NRA-TV will be forced to cease operating," the organization explained in a complaint filed in U.S. District Court.
So, a lot of people were really, really feeling for their struggle — LOL. But in lieu of actually doing anything substantial, they chose to offer up their thoughts, prayers, and literally nothing else. Because that should be enough to help push forward proactive, substantive change, right?
Meanwhile, Cuomo doesn't seem all that concerned about the NRA taking legal action (if you couldn't guess already from his Twitter burn).
"The NRA's lawsuit is a futile and desperate attempt to advance its dangerous agenda to sell more guns," the governor wrote in a statement. "In New York, we won't be intimidated by frivolous court actions from a group of lobbyists bent on chipping away at common sense gun safety laws that many responsible gun owners actually support. We have an obligation to protect New Yorkers, and this sham suit will do nothing to stop that."
We'll have to wait to see what happens in court, but concerned Americans should probably keep sending useless well wishes to the NRA as this all unfolds. It's the least we can do.