Nurse Roughed Up And Arrested For Refusing To Give Patient's Blood To Police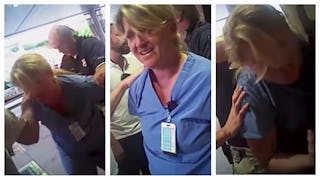 Image via Deseret News
Utah nurse aggressively arrested for doing her job
Alex Wubbels was working her shift as a charge nurse at University of Utah Hospital's burn unit when Salt Lake police detective Jeff Payne arrived, asking for vials of blood from a patient that he needed for an investigation.
Wubbels refused, because Payne didn't have a warrant "or meet any of the mandatory criteria needed for taking blood." In the video, Wubbels calmly begins telling officers what she needs before she can release vials of blood from a patient who is in a comatose state. She explains that they need an electronic warrant, patient consent, or proof the patient is under arrest.
"I'm just trying to do what I'm supposed to do. That's all," she explains to officers.
"So I take it without those in place I'm not going to get blood," the officer asks. At this point, he accuses her of interfering with a criminal investigation and says he's placing her under arrest. He then charges at her, roughly grabs her, and puts her in handcuffs. It is very disturbing to watch, and starts at around the six minute mark in the video.
"She's the one that has told me no," Payne says, when a hospital administrator Wubbel is consulting with on the phone tells him he's making a "big mistake" by threatening Wubbel with arrest. Payne then says, "We're done here, I'm leaving now, with her," charges at Wubbel, and aggressively grabs her and wrestles her into handcuffs.
A clearly terrified Wubbels screams "help me" and "you're assaulting me" and "this is crazy" as the detective forces her into an unmarked car.
"This is crazy. This is crazy. Why is he so angry?" she asks, sounding near tears.
Deseret News reports "Payne argued that he was allowed to take the blood through a process known as 'implied consent,'" but that law had changed years ago.
So a nurse simply tried to do her job correctly, and because an officer wasn't up to date with policy, she was roughed up and handcuffed. This is so wrong, on so many levels.
Wubbels has not filed any civil action against the police agencies involved.
"I think right now, I believe in the goodness of society. I want to see people do the right thing first and I want to see this be a civil discourse," she told Deseret News. "And if that's not something that's going to happen and there is refusal to acknowledge the need for growth and the need for re-education, then we will likely be forced to take that type of step. But people need to know that this is out there."
This article was originally published on