There's A DIY Nutella Holiday Breakfast Kit And We Need It
by Valerie Williams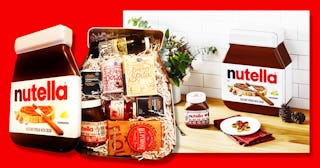 Nutella
Nutella is blessing us this year with a DIY holiday breakfast kit that also benefits No Kid Hungry
After what can only be described as a dumpster fire year, we're all in the mood for a nice, calm, holiday season filled with treats and time with loved ones. Thankfully, Nutella heard our cries and has rolled out a DIY Holiday Breakfast Kit that should honestly grace our tables every morning because it looks freaking delicious.
In a press release, the company says they're releasing the limited-edition DIY Holiday Breakfast Kit "to help inspire new family traditions while supporting No Kid Hungry, a national campaign to end childhood hunger." The company is hoping to help families enjoy a tasty breakfast together while also helping a very worthy charity — sign us right the heck up, TBH.
The yummy kit includes ingredients for their new Gingerbread Pancake recipe (flour, vanilla extra, ground ginger and maraschino cherries for decoration), so there's gingerbread-shaped cutters to make them festive and a specially marked Nutella holiday jar featuring a holiday sweater pattern and No Kid Hungry lid label. The whole thing comes in a 12″x15″ tin shaped like the brand's very recognizable jar. The best part? Twenty cents per sale of each specially marked jar (you can buy the holiday-themed jar separately from the kit in retail stores) will go to No Kid Hungry for a total of up to $300,000.
"In what has been a challenging and uncertain time, we recognize that many children will face hunger this year," said Todd Midura, Vice President of Marketing, Nutella North America. "We want to do our part to support No Kid Hungry to help give breakfast to children who need it. To do so, we created the specially marked jar for the No Kid Hungry campaign. This jar is also featured in the Nutella DIY Holiday Breakfast Kit to bring families together over special memories in the kitchen, whether in-person or virtually, while helping others in return."
If you're scrambling for a Christmas morning breakfast after cooking all kinds of goodies the night before (or when you have an entire dinner to make later that day) what could be easier (and yummier) than Gingerbread Pancakes and Nutella that comes together in its own little kit? And please feel no need to limit this delightful breakfast to just a holiday — it could make any day better.
"We're so thankful to our friends at Nutella who are stepping up for kids this holiday season," added Diana Hovey, Senior Vice President, Corporate Partnerships at No Kid Hungry. "This year has brought many challenges, especially to those in need, but we know with partners like Nutella we can ensure kids are getting the critical meals they need to thrive."
The kit's available at NutellaHoliday.com for $14.99 each.