New York City Schools Won't Have A Remote Option This Fall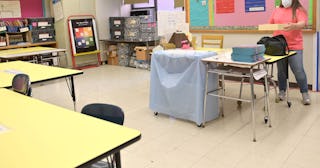 Michael Loccisano/Getty
New York City Mayor Bill de Blasio has announced that all students will resume in-person school beginning in the fall
As schools across the country prepare to wind down an academic year filled with schedule changes, masks, and social distancing, and plenty of uncertainty, it seems some cities are already planning to resume to some level of pre-COVID normalcy in the fall. New York City Mayor Bill de Blasio just announced that NYC schools will not offer a remote option for students in the upcoming school year, which means that roughly 1.1 million students and thousands of teachers and school staffers will be back to their campuses full-time for the fall for the first time since March 2020, when COVID-19 was declared a global pandemic and schools across the country went fully remote.
Mayor de Blasio made the announcement on MSNBC's Morning Joe today, sharing the news he thinks "parents, kids, everyone's been waiting for, to know we're going to be back strong, ready, safe." He cited "plummeting" COVID case rates in the city, adding, "We're almost at eight million vaccination doses since day one. And it's just amazing to see the forward motion right now, the recovery that's happened in New York City. But you can't have a full recovery without full strength schools, everyone back sitting in those classrooms, kids learning again. So, that's what we're going to have in September."
Still, around 61% (about 582,000) of the city's students across 1,800 schools have been relying on remote instruction this spring, making the announcement a definite eyebrow-raiser for parents who don't quite feel ready to send their children back in person come September. Mayor de Blasio noted that the city has worked to set a "gold standard from the very beginning, taking the health and safety measures from around the world that we saw worked in schools." He added, "Kids had masks on in all our schools the whole time, lots of cleaning, lots of ventilation. We layered all these approaches and it worked really powerfully. We've had much, much lower levels of COVID in our schools for months and months, much safer than any other place in the city. And the city has been getting better now for quite a while."
To help ease parents' concerns, de Blasio shared that parents will be able to visit their children's schools in June to see the measures being taken to assure their health and safety in the upcoming school year, alluding to a lack of distancing requirements when students return in the fall.
"We have proven we can beat back COVID all over this country. And school opens four months from now. So, I absolutely believe COVID will continue to go down. Vaccinations will go up. Recovery will be strong," he said.
Of course, COVID rates are continuing to drop across the country, but as of right now, children under the age of 12 are not yet eligible to receive a vaccine, which means they are still as vulnerable to the virus as they've ever been. It's expected that eligibility will expand to children as young as two in the coming months, so here's hoping a smooth and speedy rollout will ensure that kids are protected as they strap on their backpacks and head back to the classroom in September — in NYC and everywhere else.