Horrifying Video Shows NYPD Yanking An Infant Out Of A Mother's Arms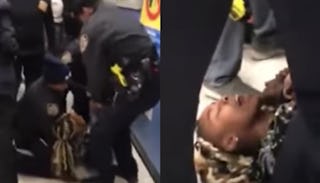 Image via YouTube/Gothamist
Elected officials are calling for an investigation of the NYPD after seeing this "appalling" video
A horrifying video is going viral, showing a screaming woman on the floor of a Brooklyn food assistance center, holding her one-year-old son against her chest as NYPD officers try to tear the baby away from her. Elected officials are now calling for involved officers, and the woman's arrest, to be investigated.
23-year-old Jazmine Headley is holding her son, Damone, in the video, which was filmed by onlookers. It's hard to watch. Headley tries to fight off officers, yelling over and over, "They're hurting my son!" One officer grabs onto the baby's body and violently tries to yank him away from his mother. When an officers pulls out a stun gun, one of the crowd of horrified onlookers screams, "There's a fucking baby in her hands!"
Details are still emerging about what the dispute was over, but reports say Headley, who works as a cleaner, was sitting on the floor of the food assistance center to wait for day care vouchers for Damone, because no chairs were available. Police claim Headley was acting "disorderly" and blocking a hallway by sitting there, and she was arrested for refusing to comply with police orders to leave. What's unclear is why the police were called in the first place.
With the video spreading online, New York's elected officials are beginning to speak out. City Council Speaker Corey Johnson called the video "unacceptable, appalling and heart breaking," and wrote on Twitter, "I'd like to understand what transpired and how these officers or the NYPD justifies this."
NYPD Sergeant Jessica McRorie, a spokesperson for the department, said in a statement that an investigation is underway. She called the video "troubling." Mayor Bill DeBlasio has reportedly been briefed on the incident, but has yet to make a public statement.
Headley was arrested and charged with resisting arrest, acting in a manner injurious to a child, obstructing governmental administration and criminal trespass. As of Sunday night, reports say she was still in custody on Rikers Island, and a family member has custody of Damone.
This is just the latest on a long list of police incidents that target people of color. Just in recent months, police were called on a black student for putting her feet up, and a black man who was babysitting white children. And we can't forget the black man who was mistakenly shot and killed by a police officer who entered his apartment, allegedly thinking it was her own. Tearing a child from the arms of his screaming mother should be unacceptable for any human, police officer or not, and we can only hope the officers involved are thoroughly investigated.