NYPD Created A 'Law & Order'-Themed Elf On The Shelf
by Kristine Cannon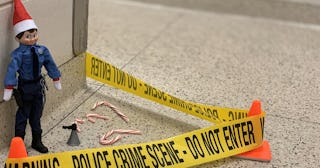 NYPD 19th Precinct
They named him Pete and gave him his own hashtag, #PeteOnTheBeat
Who says Elf on the Shelf is limited to hiding around the inside of one's home? Because the New York Police Department got very creative with the ever-popular holiday game this year: They made him a member of NYPD's 19th Precinct and named him Pete.
"In the criminal justice system, candy cane assaults are considered especially heinous," NYPD 19th Precinct's tweet hilariously starts. "In New York City, the dedicated detective who investigates these vicious crimes is a member of an elite squad & is known as #PeteOnTheBeat. These are his stories. #DunDun."
The photo shows Pete surrounded by yellow tape and investigating the candy cane-littered crime scene.
The department even gave Pete a whole backstory. Apparently, he's from the "far North on temporary assignment," and he's helping the precinct launch a holiday pilot program, one that determines if "you've been bad or good." It's honestly genius.
It doesn't end there. They documented Pete's first daily briefing.
They even have a photo of Pete studying the "naughty list."
"Studying our naughty list #PeteOnTheBeat needs your help, if you know anything about these individuals please call our Detectives at (212) 452-0630. All calls are completely confidential," the tweet reads.
https://twitter.com/jetpack/status/1202197390276661249
You guys, this whole thread about Pete on the job is just too pure and too great to pass up.
And here he is supervising the Christmas decorations at the precinct.
The Elf on the Shelf Twitter account also joined in on the action, tweeting that they were "happy to report" that Ebenezer Scrooge was moved to the nice list.
Elf on the Shelf started a children's picture book in 2005 written by Carol Aebersold and her daughter Chanda Bell. It then became a full-blown Christmas tradition where a scout, sent to your home from the North Pole, keeps an eye on the kids from various spots in the home and encourages them to behave. This game has become so huge over the years that, this year, the elf family has expanded. That's right, baby elves have been added to the mix, as well a few new accessories, like cradles and highchairs. And while we were initially creeped out by the baby elves, we have to admit, they're kind of cute.
So, for those of you also brainstorming creative ways to use Elf on the Shelf in your home this year, NYPD's Law & Order theme could be a fun twist. Or, you can make the scavenger hunt even more difficult by hiding these tiny elf babies.
This article was originally published on