Try Not To Cry Watching Obama Present Ellen DeGeneres With Medal Of Freedom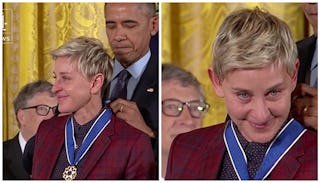 President Obama presents Ellen DeGeneres with Medal of Freedom
Obama presented Ellen DeGeneres with the Presidential Medal of Freedom yesterday, and there wasn't a dry eye in the room. The medal is the highest honor that can be awarded a civilian. It recognizes "exceptional meritorious service."
"It's easy to forget now, when we've come so far, where now marriage is equal under the law, just how much courage was required for Ellen to come out on the most public of stages almost 20 years ago," Obama said during the ceremony at the White House.
Obama himself got choked up while he spoke of what an incredible woman Ellen is, and how her coming out was a turning point for so many people: "What an incredible burden that was to bear, to risk her career like that. People don't do that very often, and then to have the hopes of millions on your shoulders."
It's been 20 years since Ellen risked her career and the support of her fans by coming out in a very public way — on Oprah, in February 1997. Her character on her incredibly popular sitcom Ellen came out to her therapist (fittingly played by Oprah) the following April.
"It was scary and crazy and what came out of listening to what I had been saying to myself was, 'Would I still be famous, would they still love me if they knew I was gay?'" she said on Oprah's Master Class. "And my fear was that no, no they wouldn't, and then it made me feel ashamed that I was hiding something. It made me feel ashamed that I couldn't feel honest and really be who I am, and I just didn't want to pretend to be somebody else anymore so that people would like me."
It's 2016, and the climate is much different than it was in 1997. It's not uncommon for celebrities to proudly come out now, thanks in part to Ellen, who paved the way for greater acceptance. And at this very pivotal political time, this is a great reminder that love is so much stronger than hate — acceptance so much stronger than bigotry.
Ellen, thank you for your strength and commitment to being truly yourself, even when it was the absolute hardest road to take.
This article was originally published on