Fellow Politicians Keep Mistaking Ocasio-Cortez For A Spouse Or An Intern
by Thea Glassman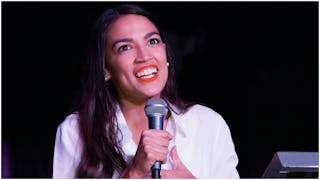 Image via DON EMMERT/Getty
Alexandria Ocasio-Cortez tweeted that people keep mistaking her for a spouse or an intern on Capitol Hill
Alexandria Ocasio-Cortez is indisputably killing it. She recently became the youngest woman ever elected to the U.S. House of Representatives, she's already fighting hard against climate change, and her journey from bartender to congresswoman is incredibly inspiring. And yet, people on Capitol Hill continue to demean and underestimate her.
Ocasio-Cortez took to Twitter to note a recent pattern at her new workplace. "People keep giving me directions to the spouse and intern events instead of the ones for members of Congress," she writes.
Okay, so that's pretty maddening and disappointing in and of itself. Then, a Twitter user tried to negate her experience and called her a liar. Dare I say that the people who are trying so freaking hard to make Ocasio-Cortez look bad might actually be a wee bit threatened by her?
Ocasio-Cortez wrote back to her naysayer and responded to his concerns with a one simple, important message. "Dem Spouse + Member luncheon were at the same time today. I was sent to spouse event. Last night I was stopped bc it was assumed I was an intern/staffer," she wrote.
"Next time try believing women + people of color when they talk about their experiences being a woman or person of color."
DNC Vice Chair Grace Meng hopped into the conversation and noted that she continues to experience the same issues that Ocasio-Cortez described.
Yes, yes, YES to all that.
Ocasio-Cortez has already dealt with a whole bunch of mean-spirited scrutiny during her first week on Capitol Hill. Just last week, Eddie Scarry, a writer from the Washington Examiner, tweeted a picture of Ocasio-Cortez from behind and said that her clothing shows that she's not financially struggling (the congresswoman has been candid about having a hard time paying rent before her new salary kicks in).
"I'll tell you something: that jacket and coat don't look like a girl who struggles," he wrote in a now-deleted tweet.
Once again, Ocasio-Cortez eloquently, thoughtfully, and fiercely took the high road.
"If I walked into Congress wearing a sack, they would laugh & take a picture of my backside. If I walk in with my best sale-rack clothes, they laugh & take a picture of my backside," she tweeted. "Dark hates light – that's why you tune it out. Shine bright & keep it pushing."