11 Ocean Coloring Pages That Won't Make You Salty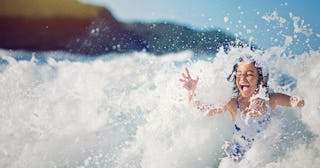 praetorianphoto/Getty
If you live on the East Coast or West Coast, the ocean is likely a big part of your life. Whether you spent your entire summers at the beach, or simply took a weekend vacation after prom with your best friends, it's a destination that holds lots of happy memories of eating ice cream on the boardwalk, building sandcastles, and beach games with the family. If you fall in this category then our ocean coloring pages may spark joy. Spend a rainy afternoon coloring with our sun-dappled collection of ocean and beach coloring pages and daydream of sunnier days in the water.
If you live nowhere near the water and your idea of summer fun is hanging by the lake, surely you can still imagine the ocean being a fun and spirited summer plan. Ocean coloring pages will be just as fun to color in, with a huge bonus — no sand.
RELATED: 80 Funny Fish Jokes And Riddles Perfect For The Class Clown(fish)
Here are 10 Free Ocean Coloring Pages
Ocean No. 1
Ever wanted to learn how to surf? This seems like the ideal wave to start with. You can color the ocean a calming mixture of green and blue. If you want to add more to this ocean, you can always sketch a real surfer on top. Or, a shark on a surfboard. Your choice.
If you are gearing up for your surfing journey, the good news is you have tons of beaches to choose from. That's because roughly 70 percent of the Earth's surface is covered in oceans. Another fun fact: while there are five ocean basins (Arctic, Atlantic, Indian, Pacific, and Southern), there is only one Global Ocean.
Ocean No. 2
Looking for an ocean coloring page with a little more going on? Then, this coloring page may be ideal. Not only do you have a ton of waves to color, but you can also give some more life to a tree and the mushrooms growing close. Fine-tipped art mediums would be best for this page, along with a trusty pencil sharpener.
Ocean No. 3
Still have that sharpener out? Because this ocean coloring page would make an excellent follow-up. This time, you get to choose how to color the fish. And, the tentacles that happen to surround them. Bright blue stripes would look exceptional, but so would a neon green or yellow.
This coloring page is a mere snapshot of the wildly diverse life that lives in our oceans. In fact, while we may think humans rule the coop, about 94 percent of the world's living population live underwater.
Ocean No. 4
Looking for a picture that's a little more tranquil? Then, this may be ideal. Try coloring in the sky a dark purplish color, and making the sun bright orange. It'll set the whole mood for this scene.
Ocean No. 5
Are you a fan of jellyfish? If the answer is no, that might change completely once you go to an aquarium and really get to see them in action. Jellyfish are oddly graceful, and this one is no different. Jellyfish are also fun to color in since they vary in shade. Some are blue and purple, some are pink and yellow, and some have no color at all. But be careful, a jellyfish sting is nothing to joke about.
Ocean No. 6
If you spent your childhood on the water, then this coloring page may be extra special. This illustration is great since it offers a new perspective. You can choose what element of this page to draw attention to. Maybe you can make the boat more visible and give the girl subtler colorations, or perhaps the boat can appear to be in the distance. Print this out twice and try each technique.
Ocean No. 7
If you liked the tentacle coloring page above and quietly wished for something with slightly more octopi, you're in luck. This is a fun page for the eyes. Try to keep a common coloring theme throughout to help develop a focal point through color. Want more like this? Check out our octopus coloring pages and get working.
Ocean No. 8
Ever dream of being on a boat and sailing overseas? Make that dream come true in a much safer and less expensive way with this coloring page. The ship would look great with a variety of brown and beige shades, or you can make this a great design for a nursery by coloring in friendly pastels.
Ocean No. 9
Are you on hold a lot at work? Print out this ocean coloring page and leave it at your desk near your highlighters. It'll cut down on wait time, and keep your brain busy. It's a good page to download anytime you need a bit of a brain reset.
Ocean No. 10
This final ocean coloring page is the most intense. There may be a lot going on, but the perfect color scheme will make this page a masterpiece. Here's something interesting: The most expensive lighthouse was built in Crescent City, California. It's called St. George Reef and cost $715,000. The lighthouse took about 10 years to build.
Ocean No. 11
Seeing a cluster of your favorite sea animals is enough to put a smile on anyone's face, but the ocean is filled with more than cute critters. It's a place filled with history and incredible treasures. For example, there are about three million shipwrecks on the ocean floor and way more artifacts there than in all the museums in the world.
Click here to print all of the ocean coloring pages at once!
This article was originally published on