Officer's Tip And Sweet Note To Pregnant Waitress Shows Kindness Matters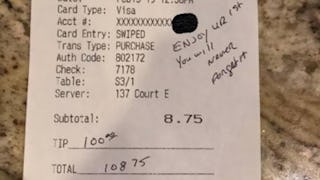 Image via Facebook
Kind gestures (and heartfelt notes) to strangers can mean more than you know
A pregnant New Jersey waitress was surprised to receive a big tip on a small ticket during her job at a diner last weekend, not to mention a short but emotional note about what it's like to become a parent. The note made her day – and now it's being shared across the country as an example of how paying it forward can have a huge impact.
Courtney English, a 23-year-old waitress expecting her first child in April, was working the lunch shift at the Lamp Post Diner in Little Gloucester, New Jersey, when a police officer sat down for a bite. Although English has a lot of regular law enforcement officers, he wasn't one of them. The man enjoyed a salad and a water, racking up a paltry $8.75 bill, but left a hefty $100 tip for the expectant mom after finding out she was going to be a first-time mom.
"Enjoy your first," he wrote on the check. "You'll never forget it."
English's father, Brian Cadigan, took to Facebook to share the story.
"My Daughter is a waitress at a local diner, she is also 7 months pregnant and working still to save as much money as she can," He posted. "This will be her first child and she is so excited, she is always cheerful at work, so she has alot of regulars, but this was not one of them, Yesterday she was working the lunch shift when a Voorhees Twp police officer came in, he was pleasant, and had his lunch by himself, and asked for the check."
He continued: "What a wonderful person to not only leave a VERY generous tip, but a lovely message, I don't know you Mr Police Officer, but you made my little girl cry, and made her year. Thank you, I always had the utmost respect for Officers, but you went above and beyond not just an officer, but a beautiful human being. God Bless."
English also spoke out about the moment of generosity from a stranger, saying that the officer was quiet, though he shared that he had also recently become a parent.
She described the moment another waitress told her about the tip, after the man had quietly left.
"When she showed me, I was completely shocked," she said. "It doesn't really happen, It was beautiful. I started to cry, and when I got home, it hit me again."
English says that she plans on spending the money on "just diapers" and other baby basics. She also says that it will go a long way toward helping her new family.
"It was very genuine and it meant a lot to me," she said. "I knew that he just had a little baby and he's so in love with being a father. I just want to say 'Thank you' — it was really a blessing. "
English told TODAY Food that waitressing has become tough in recent weeks, but that the support from those around her has meant the world.
"It is tough waitressing at this point, but I have a lot of help, my co-workers won't let me lift heavy trays, and they give me sections close to the kitchen. I have the greatest support from my co-workers and bosses."
English said that her father shared the post on Saturday morning, and it had gone viral in less than 24 hours – showing how little acts of kindness can mean a lot.
The police officer has been contacted about the story, as has his commander, but the man wishes to remain anonymous.
English is expecting a little girl name Kayleigh on April 1.