Official Trailer For New Netflix Britney Documentary Is Here
by Valerie Williams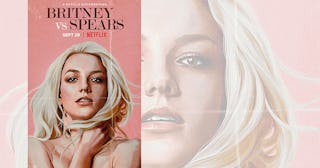 Netflix/Scary Mommy
An official trailer for "Britney vs Spears" just dropped and it's a lot
We just found out that there's another Britney Spears documentary coming our way via Netflix and now, the official trailer is here. Britney vs. Spears will delve into the singer's 13-year conservatorship under her father, Jamie Spears, and promises to include things fans haven't heard yet.
Yesterday, Netflix shared a pretty chilling teaser that was simply a 2009 voicemail from Britney.
"Hi, my name is Britney Spears," she says. "I called you earlier. I'm calling again because I just wanted to make sure that during the process of eliminating the conservatorship…"
Now, the full trailer has dropped — and we're gonna need a minute.
It breaks our hearts immediately, opening with Britney pleading, "I just want my life back."
The title of the documentary, Britney vs. Spears, refers to her conservatorship under Jamie Spears. "Britney vs Spears tells the explosive story of Britney's life and her public and private search for freedom," Netflix says in a press release. "Featuring years-long investigative work, exclusive interviews and new documents, this Netflix feature film paints a thorough portrait of the pop star's trajectory from girl next door to a woman trapped by fame and family and her own legal status."
Britney vs. Spears promises to show "Britney's life without utilizing the traumatic images that have previously defined her." Director Erin Lee Carr and journalist Jenny Eliscu "work to delve deep into the tangled history of the conservatorship that has been in place for over 13 years."
It also promises to give viewers "a shocking timeline of old and new players, secret rendezvous and Britney's behind the scenes fight for her own autonomy."
It also sounds like there is new info fans haven't heard yet."Text messages and a voicemail as well as new interviews with key players make clear what Britney herself has attested: the full story has yet to be told."
The New York Times documentary Framing Britney Spears garnered huge buzz earlier this year with fans rallying around the pop star and her 13-year quest for freedom. Over the summer, Britney broke everyone's hearts with her gut-wrenching testimony about what her life has been like under the conservatorship. Now that her father has agreed to step down, it seems that she's the closest she's been to running her own life since 2008. Here's hoping that this documentary is just one more way to keep the pressure on so 2021 can finally be the year Britney is free.