Ohio State's Marching Band Performs Spot-On Sesame Street Tribute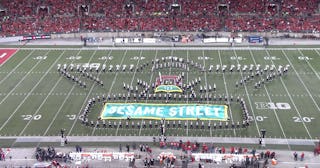 The Ohio State University Marching Band/Youtube
Prepare for this Sesame Street performance to make your entire day
If you love college sports, you probably love the halftime show, which often features the school's marching band. Fans of THE Ohio State University know just how good their marching band is, but if they needed a reminder, this past Saturday's performance was one for the record books. The band absolutely nailed a performance that paid homage to Sesame Street and dunked on one of their rivals in the process.
The band performed "Can You Tell Me How To Get…," a mix of the most famous Sesame Street songs and formations that were nothing short of flawless. They got in "C is for Cookie," Ernie's rubber duckies, the Count, Elmo, and for a finale, Oscar the Grouch made a cameo by dunking the University of Michigan, Ohio's rival football team, into his garbage can.
Michigan, unfortunately, was having a not so good, very bad week after losing last weekend to the Michigan State Spartans under head coach Jim Harbaugh. Then, their other big rival, Ohio State, put them where no one wants to be — in Oscar's trash. They aren't called "The Best Damn Band in the Land" for nothing.
The nod came after Michigan's marching band performed a "beer pong" performance where an Ohio State ball missed the cup (Michigan's ball landed directly in it, of course). But the Ohio State University Marching Band, while dunking on Michigan, delivered a performance that was unmatched by any band in recent years. There wasn't a person out of place as they took the crowd on a walk down memory lane of everyone's favorite childhood show.
The moment came near the end when one "person" grabbed the Michigan logo and another opened a trash can. Oscar the Grouch crumbled in the can as the logo was dumped inside while "One of These Things," played loudly. Ohio State was playing Penn State on Saturday but didn't want to miss the chance to respond to the beer pong bit and kick Michigan while they are down. The Buckeyes won the game 33-24.
According to the school's website, the OSU band has 228 members and "is unique among college bands, patterned after the traditional British military brass band." With all those people and instruments and routines, it's amazing to think they can pull off a performance like this at all. Then again, if you follow the team and the band, you're probably already used to seeing a performance as amazing as this one.