An Olaf Origin Story Is Coming To Disney+
by Madison Vanderberg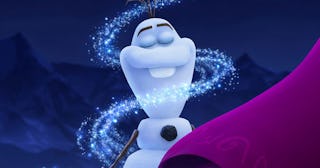 Disney Plus
A new Olaf short film is coming to Disney Plus next month
Disney Plus just keeps cranking out the hits and to mark the start of the chilly season, the streamer is dropping a stand-alone Frozen short starring your boy Olaf. Not to be confused with that weird Olaf Pixar short they played before Coco, Once Upon a Snowman is a new tale that's set to explore Olaf's "origin story" and give us a peek into his early snowman days.
"The previously untold origins of Olaf, the innocent and insightful, summer-loving snowman who melted hearts in [Frozen]…are revealed in the all-new Walt Disney Animation Studios animated short, Once Upon a Snowman," Disney announced in a statement. "The film follows Olaf's first steps as he comes to life and searches for his identity in the snowy mountains outside Arendelle."
If it's been a minute since your last Frozen viewing, Olaf has a shockingly complicated backstory for a snowman. Anna and Elsa came up with the "idea" of him when they were kids, then when Elsa goes AWOL with her magic frozen skills, she brings him to life during the song "Let It Go." Then, when Olaf runs into Anna, Kristoff, and Sven in the forest, they give him his iconic carrot nose.
As Deadline points out, this new story takes place in the time after Elsa created Olaf and before he finally links up with Anna and crew. How did he not melt? When did he learn what summer was? Did he do any singing?
Naturally, Josh Gad is back to voice the snowman and shared the news on Instagram, writing "What exactly was Olaf doing before Anna and Kristoff found him? I'm so glad you asked!"
Trent Correy, the animation supervisor for Olaf in Frozen 2 and director of the new short, said he's been thinking about Olaf's origin since the first Frozen film and his co-director Dan Abraham told Deadline that working with Josh Gad was a dream. "Josh Gad gives one of the great animated voice performances as Olaf through the Frozen films," Abraham said. "To have the opportunity to work with him in the recording booth was such a privilege and career highlight."
Personally, I am excited for the expanding Frozen universe. Who needs Marvel, just give us more Arendelle!
You can stream Once Upon A Snowman exclusively on Disney Plus on October 23, 2020.