Olivia Jade Sets The Record Straight After 'Gossip Girl' Name Checks Her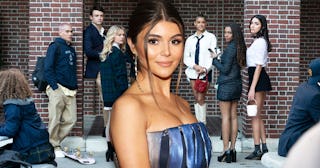 HBO MAX and Phillip Faraone/WireImage/Getty
Olivia Jade Giannulli corrected a mistake in the first episode of the new Gossip Girl reboot
While it remains to be seen how many people caught the first episode of HBO Max's Gossip Girl, we know of at least one person who watched it: celebrity offspring Olivia Jade. The social media mainstay — and daughter of convicted felons Lori Loughlin and designer Mossimo Giannulli — set the record straight after characters called her out by name on the premiere episode of the HBO Max series.
Viewers appreciated the topical reference.
In the episode, the teen protagonist Julien is humiliated after Gossip Girl leaks a pic of her half-sister Zoya (Whitney Peak) in a too-close-for-comfort pose in a pic with her boyfriend, Obie (Eli Brown).
One of her friends tells Julien it's a "social media nightmare," and that Julien looking like she got dumped is "bad for business."
Another friend has a more pragmatic approach, telling the beleaguered Julien, "everything will be fine so long as you win. Olivia Jade gained followers when her mom went to jail."
Nope, says the real-life social media star, whose parents were caught by feds in the college admissions scandal and ended up with a stint in prison. Olivia Jade went to TikTok (naturally) to set the record straight.
As Gossip Girl plays behind her, Olivia Jade shakes her head. After the show claimed she gained followers following her mom's sentence, she says, "No, I didn't."
In December, Olivia Jade appeared on Red Table Talk to discuss how the scandal effected her life.
"I don't want pity," the influencer said. "I just want a second chance to be like, I recognized I messed up."
"A huge part of having privilege is not knowing you have privilege. And so when it was happening it didn't feel wrong," she said. "It didn't feel like 'That's not fair, a lot of people don't have that.'"
By January, it appeared Olivia Jade was ready to put the whole mess behind her.
Entertainment Weekly reports Olivia Jade lost some followers on YouTube after news broke of the college admission scandal; prior to the scandal, she had around 1.9 million followers. She currently has 1.84 million at press time.