Olympian Gwen Berry Says She Was 'Set Up' During National Anthem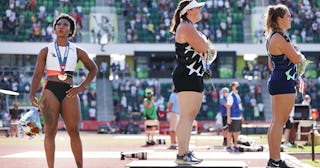 Patrick Smith/Getty
American track and field star Gwen Berry has spoken out after she turned away from the flag during the Olympic trials, sharing, "The anthem doesn't speak for me"
After winning a bronze medal (and securing a spot at next month's Tokyo Games) during the U.S. Olympic track and field trials in Eugene, Oregon on Saturday night, 31-year-old hammer thrower Gwen Berry caused controversy when she took to the podium, seemingly deliberately turning away from the American flag to face the fans in the stand as "The Star-Spangled Banner" played during the medal ceremony. She then draped a T-shirt bearing the words "Activist Athlete" over her head during the song, telling reporters afterwards why she felt she'd been "set up" during the moment.
"I feel like it was set up. I feel like they did that on purpose, and I was pissed, to be honest," said Berry, as reported by ESPN. "I was thinking about what should I do. Eventually, I just stayed there and just swayed. I put my shirt over my head. It was real disrespectful. I know they did that on purpose, but it'll be alright. I see what's up."
Of the moment, which unsurprisingly pissed off Fox News commentators and proud patriots alike, Berry explained to ESPN that the timing of the anthem being played as she took the podium – when it is normally played before winners at the trials walk out – was a direct jab at her for past podium protests in 2019, for which she'd lost sponsorships and had been reprimanded by the U.S. Olympic and Paralympic Committee with a 12-month probationary period. "They said they were going to play it before we walked out, then they played it when we were out there," Berry told reporters afterwards. "But I don't really want to talk about the anthem because that's not important. The anthem doesn't speak for me. It never has."
USA Track and Field spokeswoman Susan Hazzard explained that "the national anthem is played every day according to a previously published schedule," but didn't explain the discrepancy that accounted for the five-minute delay on Saturday.
The Ferguson, Missouri native shared that her purpose and her mission is "bigger than sports," adding, "I'm here to represent those… who died due to systemic racism. That's the important part. That's why I'm going [to Tokyo]. That's why I'm here today."
After the incident began making global headlines, Berry used Twitter and Instagram to echo similar sentiments. Of the backlash she's gotten, she tweeted, "These comments really show that: 1.) people in American rally patriotism over basic morality 2.) Even after the murder of George Floyd and so many others; the commercials, statements, and phony sentiments regarding Black lives were just a hoax."
As for the Games in Tokyo, which will begin for Berry and the other women's hammer throwers on August 1, she said, "I don't need to do anything sport-wise. What I need to do is speak for my community, to represent my community and to help my community. Because that's more important than sports." Bravo to Berry for using her platform to fight for social and racial justice – she has every right to do so however she likes.