10 Formerly Badass Songs You Hear When Buying Organic Food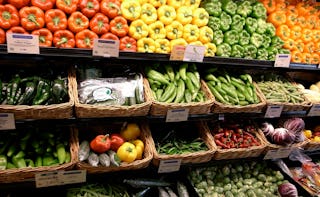 Next thing you know, you're just singing it out loud, and you notice that the peacoat-wearing 40-something dad pouring his Yirgacheffe into the grinder is also bobbing his head and belting it out. You both know every lyric, because this is the song you listened to, loud, while locked in your room with your hormones and rage. While you struggled through your algebra homework and tried to stay mad at your parents (which really just prevented you from going out to the kitchen and grabbing a snack). This is the song that was subversive and scandalous, or maybe just dirty. It felt like a secret—like the biggest and boldest "fuck you" to all the adults that bossed you around and all the boys and girls who didn't like you back and all the expectations and impediments that weighed you down. This is the song of your burgeoning selfhood.
And now it's coasting down from speakers hidden in lofted heights at the high-end grocery store, where you will swipe your debit card and unfurl your reusable shopping totes and sip your cold-pressed juice.
All the fire has gone out of it. It's not racy or defiant anymore. Now it's a quaint tune the teen at the register had never heard until she took this job (the teen who will one day bop to Kanye while she shops for genetically engineered cyber-vegetables). Now your song is just a toe-tapper, and you are old, irrelevant. You're not going to change the world; you're just going to buy lentils.
What's your neutered former power ballad? Here are mine:
1. "Blister in the Sun," Violent Femmes
2. "Sunday Bloody Sunday," U2
3. "Roxanne," The Police
4. "London Calling," The Clash
5. "You Shook Me All Night Long," AC/DC
6. "White Lines," Grandmaster Melle Mel & The Furious 5
7. "Anarchy in the U.K.," The Sex Pistols
8. "She Sells Sanctuary," The Cult
9. "Fire in Cairo," The Cure
10. "Christine," Siouxsie and the Banshees
This article was originally published on