Police Squad Shows Up For Injured Officer's Son On His First Day Of Kindergarten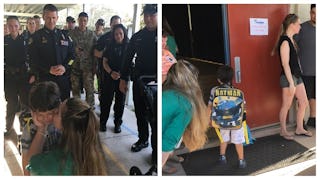 Image via Orlando Police Department
The chief of police and members of the Orlando Police Department escorted this little boy to his first day of school
Two months ago today, Officer Kevin Valencia was responding to a domestic violence call when he was shot in the head and critically wounded. The man who shot Officer Valencia killed four children & himself.
Valencia has been in a coma ever since.
Today, Valencia's son, Kaleb, attended his first day of kindergarten. But even though his daddy couldn't be there, he wasn't alone. His father's police squad, led by Chief John Mina, showed up in his place.
Along with his mom, Meghan, Kaleb was escorted to school by the entire Orlando Police Department and Chief John Mina in a heartwarming display of love for the little boy.
It's a beautiful act of kindness during what is an unimaginably tragic time for Kaleb, his family, and the entire police department.
After being shot, Valencia was rushed to Orlando Regional Medical Center in critical condition and has since been moved to the Shepard Rehabilitation Center in Atlanta, where he remains in a coma.
Though he's still in a coma, Valencia's wife says he's showing signs of improvement. "I know they said he was not expected to live, but he actually wasn't, so the fact that his moving and responding is truly a miracle," she tells WFTV9.
"You choose to spend the rest of your life with this person," she says. "The idea that that can still happen – no words can even express how ecstatic I was."
Kaleb showed up to his first day of school with his Batman backpack on, high-fiving his dad's co-workers and ready to take on kindergarten like a total boss.
Chief Mina and Meghan even looked into the classroom to make sure Kaleb was getting on alright during his first day — something every parent who's sent a child to kindergarten can relate to. It's an incredibly bittersweet image.
A GoFundMe has been set up to help his family cover the cost of medical expenses. In addition to Kaleb, Valencia is also the father to ten-month-old Kolton. All donations will be collected by the Orlando Police Heroes Foundation to give to Meghan and the Valencia family.