People Across The World Come Together To Prove #LoveWins
by Jerriann Sullivan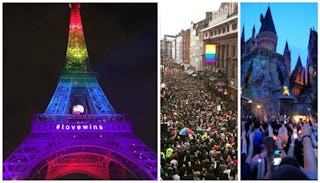 Cities across the world are hosting vigils and raising money for Orlando shooting victims
As we learn the names of the 49 people killed in the deadliest shooting in U.S. history, people from all over the world are showing their support for the lives lost.
A lone gunman, who police identified as 29-year-old Omar Mir Seddique Mateen, opened fire inside a crowded, popular gay nightclub in Orlando, Florida on Sunday morning. Authorities said Mateen injured another 53 people before an officer shot and killed him. Devastated by an attack on the LGBTQ community, people across the world are holding vigils, raising money, and coming together to show their support for the victims — and to prove #LoveWins.
Paris lit the Eiffel Tower in rainbow colors to show their solidarity. "Paris is with Orlando. Tonight, the Eiffel Tower will be illuminated in LGBT colors in homage to the victims," the mayor of Paris, Anne Hidalgo, posted on Twitter. She also posted the below image.
People also hosted various vigils across the city with hundreds in attendance. Multiple people tweeted images from the vigils to show their support for Orlando.
In London, LGBTQ advocates have a series of vigils planned. On Monday night, people gathered on Old Compton Street to honor the massacre victims.
Hundreds of people showed up at Sackville Gardens for a vigil despite the rain.
And in Birmingham people held rainbow flags, ballons, and lit up buildings in rainbow lights to show love and support for the LGBTQ community in Orlando.
In Hong Kong people held candlelight vigils.
Various events were held in Brazil, including the vigil pictured below in front of the Itamaraty Palace.
The Sydney Town Hall in Australia flew a rainbow flag and lit up the landmark at night to pay tribute to Orlando.
Government buildings in Scotland were also adorned with rainbow flags.
Closer to home, bridges in Nashville and Louisville were lit in rainbow colors.
In New York at The Stonewall Inn, the gay bar known as the site of the 1969 riots that launched the gay rights movement, hundreds of people came out to support the LGBT community, including Tituss Burgess, the actor best known for his role in "Unbreakable Kimmy Schmidt", who sang for the crowd.
Vigils were held in most major cities Sunday and Monday night. More are planned throughout the month of June.
Back in Orlando, as the city heals by helping others, organizers have held vigils at the University of Central Florida and Rollins College, the city's two biggest universities. Just a few miles north of the horrific shooting, events were held in downtown Orlando. At a prayer vigil Sunday night the Orlando Gay Chorus performed "True Colors" and various other songs at the Joy Metropolitan Community Church. Watch the touching tribute below.
Here is how you can help the Orlando shooting victims.
This article was originally published on