If You Haven't Seen The Oscar-Winning Animated Short 'Hair Love,' Here It Is
by Christina Marfice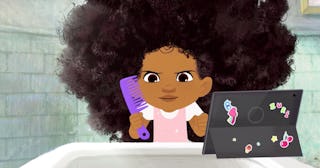 Sony Pictures Animation/Youtube
In case you haven't seen Hair Love yet, the full version of the film is on YouTube
One of the hardest things about Oscar season is how tricky it can be to see some of the films that get the nominations and prizes. The Oscars fall in that weird time after many of the featured movies have left theaters, but before they're available to buy, rent, or stream. And short films? Those are almost never in theaters to begin with, so what's an Oscar fan to do? Well, lucky for us, if you want to see the Oscar-winning short Hair Love in its entirety, you can do that (for free!) because the entire film is on YouTube.
Hair Love, which took home the award for Best Animated Short Film, was created by filmmaker Matthew A. Cherry, and tells the heartfelt story of an African American father learning — "with a little bit of work and a whole lot of love" — to do his daughter's hair for the first time.
It's a story that will be familiar to many black families all over the world, and that's particularly resonated due to some headlines lately. When Texas teen DeAndre Arnold was suspended and blocked from walking in his high school graduation ceremony because he refused to cut his dreadlocks that pay tribute to his father's Trinidadian heritage, the team behind Hair Love invited Arnold and his mom to be their guests of honor at the Oscars.
The truth is that there's still a lot of ignorance and racism in the U.S. surrounding black hairstyles (and the school dress codes that sometimes unfairly target them), and films like Hair Love will help combat that. The short is absolutely touching, and its core message, which is about the love between a father and his daughter, will resonate with viewers from all kinds of families, no matter what their hair looks like.
In this year's Oscars field, Hair Love was up against some stiff competition, including several other short films that explore the beauty and complexity of family relationships. Ultimately, though, the Academy chose a deserving winner.
More than 18 million people have watched Hair Love on YouTube since it was posted there in early December, and the comments are filled with people who have been touched by the short's beautiful message. If you still haven't seen this now Oscar-winning short film, head to YouTube and click play. It will be the best six minutes you spend today.