Every Tired Parent Needs This Ridiculous Napping Hat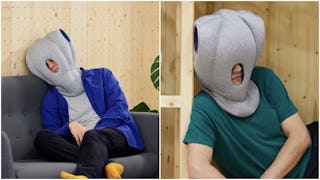 Image via Ostrich Pillow
You're gonna want an OstrichPillow in every color
Every parent has moments of exhaustion at times (read: every single day). Wouldn't it be nice if there was a way to drown out the noise of your kids, spouse, washing machine, pets, and basically anything in your home/car/office that makes any amount of noise? Well guess what folks, there is.
Behold the OstrichPillow — a 20,000 Leagues Under The Sea looking koala-type hat that you shove your head and hands into when you need a little snooze. And based on their Instagram page, it seems you can literally sleep anywhere with one of these things on.
https://www.instagram.com/p/Bo9ca8FgmLH/
According to their website, the idea was conceived in 2012, when "the world was suffering from a serious sleep deprivation." To combat this, the creators decided to come with a device that "would allow people to rest where they wanted, when they wanted to," personal pride be damned.
Listen, if this thing is as good as the reviews on their site, you could plop a horse's ass on my head and I'd try it.
We parents are constantly exhausted by mother/fatherhood. Most of us haven't slept through the night in years (decades, even) and we are running on fumes most days. Wouldn't it be nice to tuck into one of these puppies and take a quick 20 minutes (or two hours if you can spare it) to catch up on some much needed sleepy time?
I mean, look at this guy. He's sleeping while riding a scooter! It's a damn miracle.
The Ostrich Pillow is "lovingly hand made using a dreamily soft high quality combination of viscose and elastomer, together with the next generation coated microbead filling." I don't know what any of that means but it sounds dreamy.
Look at this person. Lights out and zero shits to give about what anyone thinks. This person is my hero.
The pillow comes in several color options and retails on their site for $99, which is a small price to pay for some peace and quiet.