Exercise Equipment At Public Parks Is Genius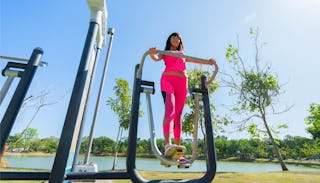 upslim / Shutterstock
A park can be a parent's best friend. There's hardly a more exciting prospect for a kid — or let's face it, a better form of bribery — than a trip to the playground. But it isn't always as awesome for us as it is for our offspring. Sitting on a bench watching "this" for an hour isn't particularly appealing, and heaven forbid we tear our eyes away from our darling children long enough to glance at our smartphones (eyeroll forever).
RELATED: 10 Exercise Routines For Seniors That Improve Strength And Balance
That's just a small part of the reason why public fitness areas are a spectacular idea — and we need to shout it from the rooftops so that every community can reap the benefits. All over the world, parks have installed simple, weatherproof, easy-to-use exercise equipment. Though this type of installation has been in practice for over 40 years, newer designs and more sophisticated equipment have sparked a renewed interest.
Public "fitness stations" are not limited to sit-up benches and parallel bars anymore; they're home to more gym-like equipment, featuring things like recumbent bikes and lat pull-down machines, each with a sign explaining proper usage techniques and which muscle groups the user will be working. And the enthusiastic response to these updated outdoor exercise spaces is inspiring more and more locations to follow suit. Every park should have a similar setup, and here's the case for why:
It's cheap.
Exercise is good for everyone. Period. Unfortunately, not everyone has the means to access equipment. Gyms have joining fees and monthly charges that exclude them as an option for low-income families or seniors on a tight budget. In a public park, no one has to worry about cost.
It's accessible.
Parks are, by design, very accessible spaces: They're centrally located, always on bus routes, and within walking distance from many residential areas, so transportation is not much of an issue. Also, much of the equipment can be used by both the able-bodied and the handicapped, the young and the old. It's not only easy to get to, but offers a truly inclusive exercise option once you're there.
It's convenient.
We're always trying to squeeze something into our jam-packed schedules, and exercise doesn't always make the cut. (What? We're busy!) Many fitness stations are located in close proximity to playgrounds, so we can watch our kiddos and make actual, legit use of those yoga pants all at once. With no set hours of operation, the equipment can be used virtually any time we can work it in. Best of all, it eliminates the need to get a sitter or find a gym with childcare. Not to mention pay for said childcare, which can really add up.
It's healthy.
Obviously I don't need to tell you how many ways exercise benefits us personally, both body and soul, but we aren't the only ones benefiting. By exercising with, or in front of, our kids, we're setting a great example and showing them early that prioritizing their health and fitness is important (and that it can be pretty fun).
It's social.
Having a workout buddy — or a group of them — is the best way to stay accountable. Plus, it's much more fun. In a public fitness station, it's easy to work out with friends without having to worry about being members of the same gym or paying a non-member drop-in fee at a class. And if you're going solo, it can also be a nice opportunity to meet people because you automatically have at least one thing in common — a shared exercise regimen. Plus, you can take turns watching out for each other's kids.
There are a bazillion reasons to get up and get moving, and outdoor fitness parks are the inspiration we need to do something good for ourselves and our communities. They're giving us life, literally.
It's fairly easy to find an outdoor fitness facility nearby if you live in a metropolitan area (just search "public fitness parks near me"), but for those of us in smaller towns, the option isn't ruled out. You can petition your city council or department of parks and recreation to bring a similar setup to a park near you. If you need help, Playcore — a manufacturer of outdoor fitness equipment — has a simple form on their website that you can fill out to access the proper contacts, learn how to pitch the idea, and download research that can help you to support your case.
Just think: You could be a community hero and have an enviable bod to boot. Win-win!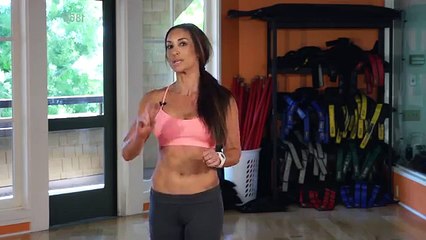 This article was originally published on