NYC Libraries Forgave Kids' Fines, And We Need To Make This Happen Everywhere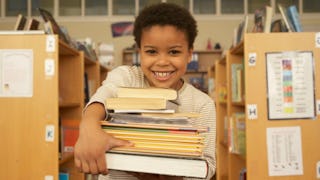 Tim Hall / Getty Images
In New York City, if you owe more than $15 in library fines, your card becomes invalid until you pay the fines, and you are prohibited from taking out any new books. I should know: As an NYC resident for the past 15 years, this has happened to my family more than once.
Luckily, I have personally been in the position to pay my fines — and then promptly take out a whole new stack of books for my bookworm kiddos to devour. But imagine if you were not able to pay those fines. For many low-income families, $15 is a whole lot of money. Many families simply can't pay, and end up not being able to use the fantastic, educational resources public libraries have to offer.
This is not okay.
Kids need easy access to books and other library resources in order to learn and thrive, and libraries are supposed to provide this access to all children — regardless of socioeconomic status.
In fact, as the New York Times reports, up to 160,000 New York City children have had their library card privileges revoked, most of whom come from poor or low-income neighborhoods. But on October 19, in an unprecedented move, NYC libraries forgave library fines accrued by all kids 18 and under in the city, thereby resurrecting thousands of invalidated library cards.
This incredible initiative was made possible by JPB Foundation, a philanthropic organization which donated $2.25 million to make up for the revenue the library lost when these fines were forgiven. Although it's a one-time amnesty (the city began again collecting library fines on lost or overdue books the day after the forgiveness day), it meant that thousands of kids would now be able to use their cards again, and thousands more would have all fees wiped clean off their records.
But it's not just about monetary aid — it's the message it sends to the children of our city. Anthony W. Marx, president of the New York Public Library, tells The Times that the fine forgiveness is "[A] dramatic way to message to kids and young adults that we want you back, and we want you reading."
Marx adds that while he wants to teach kids responsibility when it comes to returning books on time, he doesn't believe that poor families should be penalized so harshly just because they can't pay.
Libraries like the NYC system do rely on fines to pay for programming, and of course, fines are seen as a way to make sure that books are not stolen and that a plentiful number of books are always kept available on the shelf. But we all know that sometimes you just can't return books on time, and when it comes to kids, it is inevitable that books are sometimes lost or damaged.
For poor families, fines — which can't always be easily avoided — will remain an issue, and often that means kids just won't have access to all the materials that a library offers. "Young people don't have jobs, so it's hard for them to get the money," Ivan Huan, 13, a middle-schooler at Frederick Douglass Academy, tells The Times. He says that he works around fines by speed-reading books at the library, noting that most kids "may not have enough [money] from just their allowance."
As for any hopes of this becoming a permanent thing, Dennis M. Walcott, president of the Queens Library system, tells The Times that this initiative is more of an "experiment" and the library will determine at a later date if "fine-free" libraries for kids might end up being an ongoing thing.
But if New York City did implement a "fine-free" program for young people, it wouldn't be the first of its kind. Starting in 2015, the District of Columbia's Public Library System stopped collecting fines for kids 19 years and younger. "We didn't want the reason you didn't come to the library to be fear that you owed money," George Williams, a spokesman for the District of Columbia's Library System told The Times.
Yes!
Earlier this year, San Francisco offered a six-week fine forgiveness period for its patrons. During that time, 5,000 library cards were unblocked, and 700,000 items ended up getting recovered. One book was returned that was overdue by a century (yes, really!).
Wouldn't it be wonderful if programs like this took off everywhere? Libraries are an amazing resource for our communities, and yet there are often roadblocks to making these resources accessible to all. All children should have access to the enriching and life-changing resources that libraries offer, regardless of economic status. Kids should not be penalized just because they can't afford to pay overdue fines — and libraries should not be reserved solely for people who are privileged enough to pay the fees. It really is that simple.