There's A New Game Show That Helps Contestants Pay Off Their Student Debt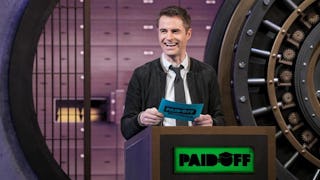 Image via TruTV
On 'Paid Off,' you can answer trivia questions to win the ultimate prize: repayment of your student debt
U.S. students have around $1.5 trillion in total student loan debt. That's a casual average of $37,200 per student. To say there's a crisis is putting it lightly. But never fear, young adults who are entering the workforce and trying to start families and lives while saddled with soul-crushing amounts of debt and hardly able to secure a job that pays above minimum wage! The solution is here! It's a game show, because that's where we're at in America. If you answer enough trivia questions correctly on Paid Off, you can have your student debt completely erased.
"Holy shit," the entire millennial generation just exclaimed in unison. Where do we sign up? Here it is. After years of struggle, here's our chance to live like the baby boomers, to be able to live on one salary, to afford both a house and a car payment! Well, maybe. Wages are still stagnant, so we're still waiting on a game show to fix that for us. But one step at a time, amirite?
Paid Off debuted July 10 on TruTV, and it's apparently a Family Feud-style show where instead of winning cash, the grand prize is to be suddenly free from student debt. The concept is as ridiculous as it sounds, and the internet is noticing.
The show is a little bit tongue-in-cheek, though. It knows that this is an absolutely ridiculous concept, and that's kind of the point, according to host Michael Torpey, who calls it "an absurd show to match an absurd crisis." According to the Washington Post, he also uses time at the end of each episode to urge viewers to call their representatives and demand a better solution to the student debt crisis than a damn game show.
But considering how many of us saw that show and immediately though, "Sign me up!" you can't help but wonder what's next. Jeopardy for cancer patients vying to win coverage for their treatments? The Dating Game, but to match teachers to those uber-competitive jobs that pay them a salary they can survive on?
It's ridiculous, but better than anything we have going right now. That's kind of the point, but also, America, please get it together.
This article was originally published on