We Will Adhere To CDC Guidelines, And We Will Still Enjoy The Holidays
by Katie Cloyd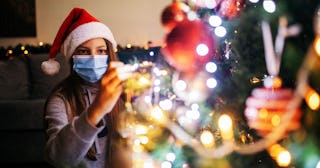 miljko/Getty
Even though the pandemic holidays will be different, I'm really looking forward to them.
This pandemic sucks. Let's just face it. Hundreds of thousands of people have died just in the United States alone. There is no way to put a positive spin on that. So many lives cut short by a virus doctors and scientists are still scrambling to understand and properly treat. Nothing is normal, and everyone has felt it. We've been without adequate leadership for the duration of this nightmare, and here we are, months and months and months later, still watching people lose their lives at an alarming rate. It's been scary, exhausting, frustrating, heart-breaking and annoying as hell. Sometimes, all in one day.
Someday, it will be safe and responsible to gather without masks.
We will get to hug everyone we love, and to go back to a life we know. But it's not safe or responsible yet, and that means, for those of us who are still masking, social distancing and following scientific consensus, this holiday season isn't going to look like it has in the past.
That doesn't mean it has to be a bummer! Of course, it's totally understandable if you can't muster up the enthusiasm for a holiday season. If you want to sail right through to January and try again next year, nobody would blame you.
But I love the holiday season.
I would feel a huge sense of loss if I didn't try my best to make them special, despite the challenges of a pandemic.
In the next few months, our family will celebrate Halloween, my son's birthday, my birthday, Thanksgiving and Christmas. We will also spend one evening celebrating Hanukkah with our closest friends. We have a busy season coming up, and after the year we have had, I cannot wait!
Nothing will be as it usually is, but my cup is already running over with ideas for fun, pandemic-friendly adjustments.
For Halloween, we will skip Trick-or-Treating.
I know a lot of people don't see this my way, but interacting with tons of strangers up close and personal doesn't seem like a COVID-safe activity to me. Our town hasn't worked out any kind of alternate plan, so we will be in that night.
Trick-or-treating might be off the table, but we can still have a candy scavenger hunt in our own yard or even indoors with the lights off! Glowsticks, flashlights, and Halloween music will make for a fun candy hunt. If we stay up late watching Hocus Pocus, we can still get all the fun of the spooky season with a lot less risk.
https://www.instagram.com/p/CGf-r8OJ6E3/
Our Thanksgiving crowd will be tiny.
Our COVID bubble is very small. But I will still get out my nicest serving plates and make our traditional meal. We will not pretend the pilgrims were awesome, but focus instead on all the reasons we have to be grateful today. Even in 2020, the most bonkers year on record, there are reasons to show gratitude. Our family has been spared from the pandemic so far, our homes are warm and safe, and we have hope for a better 2021.
During Hanukkah, we will visit my best friend's family to celebrate the Festival of Lights.
My children will get a chance to help light the menorah, and her husband will tell the story about the Maccabees and the miraculous way one day's worth of oil burned for eight days. Even though Hanukkah isn't my family's holiday, my children will get a chance to celebrate—even if we have to maintain our distance, so we can't sit close to one another around the dinner table like we usually do.
And then we will have Christmas—my favorite day of the year.
I won't get to host the Feast of the Seven Fishes on Christmas Eve this year, but we can still have a nice seafood meal. All of our Christmas treats will be homemade and not cookie-swapped this year, but we will still have some nice treats.
Before we go to bed on Christmas Eve, we will open packages with new jammies in them, set out cookies for the jolly old elf and carrots and apples for Rudolph and his crew. Santa will bring our kids a gift or two. If we are lucky, he might take off his mask to sample the cookies and forget to put it back on, leaving behind a magical memento from his visit.
Christmas morning will be as it always is… mugs of hot coffee, wide-eyed wonderment, mountains of torn paper, and peals of laughter filling the air as my kids discover all the little trinkets in the packages and stockings.
The day after Christmas, my mom is coming to see us. It's been almost a year since she was here last, and my kids don't know she's coming. I can't wait to see their faces when she comes through the door. COVID will have kept us apart for eleven and a half months by that point. It's been sad, but after so much time, that reunion will be extra sweet.
COVID has taken away so many things this year.
It has stolen hundreds of thousands of lives, shuttered businesses we loved, canceled vacations, and kept families apart. It's changed the way we do everything. It will even keep us from seeing one another's smiling faces when we wish our neighbors happy holidays.
But it can't stop us from enjoying all the most special days of the year.
We've all managed to make pandemic birthdays pretty great with a little imagination. We can do it for the holidays, too. Nothing will look like it usually does. Sure, we have to skip trick-or-treating, Friendsgiving, and a visit to our usual Santa Claus, but we can still enjoy our spooky night, observe a day of gratitude and have ourselves a merry little Christmas.
Our four-year-old is on the autism spectrum, so every single day we repeat phrases like, "You are different, and that is good! Different is not less!" or "It's okay to do things your own way, even if your way doesn't look like everyone else."
Just this morning I said, "You are your own kind of perfect, and that's special and exciting!"
Maybe the holidays won't be business as usual in 2020, but I am going to do my very best to make sure that they're still special and exciting.
This year, our holidays might just be their own kind of perfect.
If it means keeping my family and the people around us safe during this pandemic, I can get on board with that kind of different.
This article was originally published on