If We Are 'All In This Together,' Then These Folks Are Failing Big Time
by Elisha Beach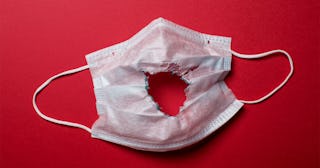 Boris Zhitkov/Getty
When COVID hit in March 2020, Americans were told everything would shut down for two weeks. Yet here we are 10 months later, and it's understandable that the majority of us have hit a point of pandemic fatigue. And what many of us are really tired of is pandemic hypocrites. That's right… the people publicly touting CDC guidelines but not actually putting them into practice. And to say the least, it's just not cool!
Having to wear masks, social distance, work from home, oversee virtual schooling and stay away from friends, family and loved ones is a challenge for everyone. Kids are falling behind in school, people are losing their jobs, businesses are closing, and people are dying. And we all have to do our part to slow the spread of COVID-19. Yet, plenty of people have been caught flouting the rules and guidelines everyone has been asked to follow in the name of public health.
Many of us have come across a pandemic hypocrite or two. It may be your neighbor that wears a mask to take the trash out but will host a get together for 20 "family" members. Or it could be the over-sanitizing coworker that always has a weekend excursion to share about. Or the friend condemning others for not taking the pandemic seriously, then hopping on an airplane for a vacation to a COVID hotbed. And you have most likely watched celebrities and influencers breaking all the rules on social media.
TikTok Stars Charli and Dixie D'Amelio jetted off to the Bahamas over the holiday break with a group influencers. Jake Paul was spotted maskless at a crowded party in Ohio. Kim Kardashian vacationed in Tahiti for her 40th birthday with family and friends in the midst of California guidelines restricting outdoor gatherings to less than three households and under two hours.
Based on recent tweets, Dua Lipa clearly forgot that she tweeted a video back in April 2020 urging people to stay at home.
Just this month she tweeted photos of herself with her boyfriend and group of friends on holiday in an undisclosed location.
And Rita Ora claimed she planned to spend her birthday quietly celebrating with her parents. Turns out she reportedly hosted 30 people for a private party at a closed restaurant in Notting Hill. She received a fine of £10,000.
It's annoying to scroll social media and see influencers and celebrities breaking the rules. But, although influencers and celebrities are public figures, they never signed up to be the pillars of society. However, politicians did — and they seem to be the worst pandemic hypocrites of all.
It's not uncommon to see hypocrisy as a practice from our political leaders, but in this instance, it is down right infuriating. The "do as I say, not as I do" attitude has to stop. But based on some politicians' behavior during this pandemic, that may be asking too much.
In early November, Austin Mayor Steve Adler shared a video on Facebook urging residents to stay home. But he recorded the video while on vacation in Cabo San Lucas, Mexico.
Prior to Thanksgiving, Denver Mayor Michael Hancock tweeted out some COVID safety recommendations. The tweet encouraged residents to "stay home," "avoid travel" and "host virtual gatherings." Not one hour later, Hancock went against his own recommendations and hopped on a plane to Mississippi to visit his daughter.
After the election, Washington DC Mayor Muriel Bowser traveled with staff members to Delaware and attended a crowded campaign party celebrating Biden's presidential win. Bowser deemed the travel "essential travel" and refused to adhere to her own guidelines and quarantine for two weeks after visiting a state listed as "high risk" by D.C. officials.
Over 100 politicians from California, Washington State and Texas took a lobbyist paid trip to Maui, Hawaii in November to attend the Independent Voter Project's yearly conference. Never mind the fact that at the time Maui County's Emergency Orders prohibited social gatherings of more than ten people. And the last time I checked 100 is definitely more than 10.
It appears that the politicians in California are among the worst pandemic hypocrites. The state has some of the most restrictive guidelines. Yet, a number of politicians have attempted to sidestep state restrictions and guidelines.
The California Assembly decided to relocate to an NBA arena to ensure social distancing. Yet five legislators headed to a restaurant together just hours after a swearing-in session. This was against state health recommendations limiting outdoor gatherings to three households.
Los Angeles County Supervisor Sheila Kuehl voted to ban outdoor dining and hours later was spotted eating outdoors at a Santa Monica restaurant. And U.S. Speaker of the House Nancy Pelosi canceled a large dinner party for freshman House members. But the cancelation came only after the event gained some bad press.
Gov. Gavin Newsom and San Francisco Mayor London Breed both dined at the same exclusive Napa Valley restaurant one day apart. Newson attended a birthday party for a lobbyist with 12 attendees and Breed attended a family party with 8 attendees. These two politicians issued some of the most imposing COVID 19 restrictions and yet are unable to abide by the very guidelines they enforce on their constituents.
Frankly, the hypocrisy is appalling. It sends the message that the "political elite" seem to think they are more immune than the "common folk." And politicians like this are making it harder to get the already rule weary public to accept new or continuing restrictions.
Public health guidelines like wearing a mask and social distancing are already political hot-button issues. The last thing we need is for politicians to add to the fire by not following the very guidelines they are enforcing. People are tired and frustrated and political leaders on both sides of the aisle need to step up and lead by example.
We are still at a very vulnerable point in this pandemic. Many states are still in extremely restrictive lock downs while COVID cases continue to grow. Many hospitals are at capacity while COVID deaths are multiplying. In order to get to the other side of this pandemic, we all have to work together and think about the greater good for everyone.
Politicians with a mindset of "do what I say, not what I do" are detrimental. It's not okay to be a pandemic hypocrite and try to enforce rules you have no intention of following yourself. Plain and simple, if you expect others to adhere to the guidelines in the name of public health … you gotta walk the walk, or you're hurting the cause.
This article was originally published on