Men Are Parents Too––Some Employers Needed This Wakeup Call
by Clint Edwards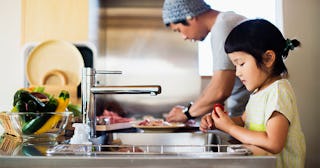 Yagi-Studio/Getty
The other day, I was teaching my son how to cook. He's 13, and we were making Dutch pancakes and fried potatoes. We stood side by side, him cracking eggs as I checked the recipe. We were listening to Christmas music, and my wife was sitting at the table working on our family budget. It was 5:30 PM on a Monday, and I couldn't help but realize that were it Monday in 2019, I wouldn't have been home from work yet. Usually I got home around 6:10 PM, but without my 40-minute commute, I had time to stand next to my son, and teach him to cook dinner.
With my wife and I both working from home, and our kids learning from home, I've been able to spend far more time with my children. Far more than ever before — and as it turns out, a lot of fathers are experiencing this exact same reality. And according to most experts, fathers spending more time with their children might become a permanent reality. Frankly, I'm all for it.
Ann Francke, the chief executive of the Chartered Management Institute (CMI) had this to say to The Guardian about how 2020 has changed fatherly involvement: "Business leaders have seen firsthand what juggling work and family life entails and that both parents need to be empowered to do that. The shift to home working has forced business leaders to recognize that flexible working could benefit all employees as well as save money. Fathers are vital to progressing gender equality for mothers. Without progress for fathers at home there can't be progress for mothers at work, they are two sides of the same coin."
Employers viewing fathers as equal parents is something I've personally been seeing more of, and as a father of three myself, I'm loving it. When my two oldest children were born, I was waiting tables. I had zero sick pay, and paternity leave was out of the question, so outside of taking a few days off after the baby was born, I kept working.
With my youngest, I had a career at a university. I had benefits. But when I mentioned that I was going to take a month off to be with our new baby, and help care for my wife after giving birth, my boss took me in his office and more or less told me that I was a man, and that I didn't need that much time. Naturally, this is the most glaring example, but I have faced similar opposition from supervisors and social shame from coworkers whenever I try to take time off to care for my children. What frustrates me the most about all of that is how it forces the majority of child labor onto my wife.
Mothers disproportionately taking on the burden of child care during the pandemic is a very real fact. In a recent Guardian article, UK working mothers were described as the "sacrificial lambs" in the coronavirus childcare crisis. And as a father who is literally known to fight with his employer so he can have the flexibility to be a more active father, this reality pisses me off.
But my friends, there is hope for a more equitable life in 2021. Because in 2020, despite all the inequality listed above, the gender gap did, in fact, narrow – at least in some places. According to the UK Office for National Statistics, during the first COVID lockdown in May, there was a 58% increase in childcare undertaken by men. And if history tells us anything, it is quite probable that this increase in men doing more will be a long term change, and that change will undoubtedly benefit working mothers.
Adrienne Burgess, joint chief executive of the Fatherhood Institute, had this to say about the shift in child labor: "Research tells us that when there is a social movement happening, a crisis often accelerates the movement. For example, before the second world war women were gradually moving into the workplace and the war pushed that on – and I think we are witnessing a similar thinking in men's involvement in childcare," she said.
I don't know if all men will agree with my sentiment, but I can't help but feel excited about this. I must admit, this year has been incredibly hard. It's been a year of rapid adjustment for myself and my career, and also for my wife's career, and my children's education. But I also know that my coworkers, and my supervisor, have suddenly had a window into my life. I've attended so many work meetings on Zoom with a child in my lap, or one sitting next to me asking for help with homework, or as I flip pancakes, making my kids lunch. In so many ways, working from home has literally shown companies that dads have child rearing obligations, too. And I am optimistic that it will become a long term wakeup call to employers — and to fathers.
This article was originally published on