Family Sues Panera Over Peanut Butter On A Grilled Cheese Sandwich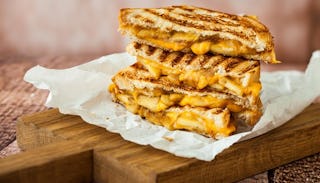 Photo via Shutterstock.
Little girl was hospitalized after eating Panera sandwich
A New England family is suing Panera after receiving a grilled cheese sandwich with peanut butter on it. John and Elissa Russo's 6-year-old daughter is allergic to peanuts and the family always mentions it when ordering her food.
They marked it twice when ordering a meal using Panera's online system on Jan. 28, but the grilled cheese came with two large spoonfuls of peanut butter. The little girl, then 5, didn't appear to have a severe reaction at first, so the family's doctor said Benadryl would be fine. But then the child vomited and the pediatrician urged the family to get her to a hospital. While there, hives showed up all over her body so hospital staff gave her a shot of epinephrine, the Boston Globe reported.
In the lawsuit, the family alleges that an employee added peanut butter on purpose "knowing that [she] has a life-threatening peanut allergy." But Panera says the inclusion of the peanut allergy on the ticket led to the error. John Russo called the Panera location they ordered from that night, and the manager on duty apologized several times saying a language issue led to the misinterpretation and error. Panera has this note on its website: "Please note that we cannot guarantee that any of our menu items are free of allergens because we use shared equipment and handle common allergens throughout our supply chain and bakery-cafe."
No one can seem to agree about how food allergies should be handled. Parents were quick to comment online about the lawsuit and how they deal with food allergies in their homes.
"I have a 5 year old with a severe peanut allergy and know I wouldn't be at risk here because common sense tells us that you'll never have peanut butter added to a grilled cheese sandwich unless you get an odd request for it," one dad said in response to the story. "There was no reason to mention it. By having it noted for no reason they'll always be at risk of it being added in error, whether there's a language barrier or not."
Many people agreed with that line of thinking, but just as many felt it would be risky not to mention it. "I always mention my allergies and my sons allergies. My son had a reaction to egg in an orange Julius. I had a reaction to pistachios in an Italian meat in a sub," another dad wrote. "These places try to be fancy by adding random things to their foods. If you value your child's life you would tell the waitress even if it's a glass of water. This is coming from one who knows." Food servers offered their take as well. "As a server in a restaurant myself […] You as a customer always should tell if there is an allergy. Any food place there is always a sign. We deal with so many types of food," one commenter explained. "I work in a restaurant and absolutely tell the kitchen of an allergy no matter what the customer is ordering," another commenter weighed in.
Some people said the parents should have simply made the grilled cheese at home since there is no way to ensure cross contamination or worse won't happen. "Just make your own grilled cheese sandwiches. Not exactly a difficult culinary exercise," a commenter said. "If any of my children had a severe food allergy we would NEVER eat at any restaurants. It's too easy for things to get mixed in with other food items," a mother shared. "[Your] kids life is not worth the gamble when it would take you 5 minutes to make a sandwich at home."
Suggesting that people with food allergies should never eat a meal away from home is silly — but what exactly is the best way to deal with allergies so that everyone is safe? This is the question that is so hard to answer, and probably why so many people are arguing about this incident online today.
This article was originally published on