Bride-To-Be And Paraplegic Fiancé Poke Fun At Their Unexpected Pregnancy
by Valerie Williams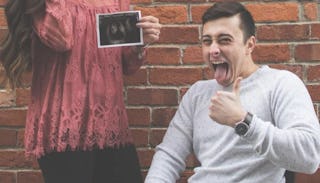 Image via Imgur
Their hilarious photo quickly went viral
Posting a cute pregnancy announcement on social media is practically required in these modern times, but not all pregnancy announcements pack the same punch, as an adorable couple proved on Reddit this week with their very funny photo.
Todd Krieg and Amanda Diesen were engaged and found out they were expecting their first child all in one day. It's pretty exciting stuff, but the baby news was especially thrilling, as Krieg is paralyzed from the chest down and the couple were told they may not be able to conceive without medical intervention. Happily, that wasn't at all the case.
And boy, did they have a laugh about it.
The now-viral photo features Krieg with an ecstatic grin giving a big thumbs up as Diesen holds a sonogram photo, but the best part? The phrase "It still works!" emblazoned on the brick wall behind them in chalk. Um, hopefully, ya'll know what "it" is referring to without us spelling it out. Reddit users loved the couple's sense of humor and upvoted it like crazy. It now has over two million views.
On the website where people can vote for the couple to win a free wedding, Diesen writes, "Doctors had said it would be nearly impossible to conceive naturally due to Todd's injury, but here we are, 14 weeks pregnant." According to PopSugar, when they met in 2015, Krieg was a year past the dirt bike crash that partially paralyzed him, ending his motocross career. Their love story began when Diesen was working at a paralysis recovery center where Krieg was a patient. They fell in love and now, are expecting a baby and about to be married. Talk about serendipity.
And the sweet photos don't end there — check out their completely precious gender reveal.
Their little boy is due this summer, and Diesen tells Scary Mommy he may or may not be in attendance at his parents' wedding, depending on whether they win the contest. "If we win the contest the wedding would be June 2nd and I would be 30 weeks pregnant! If we don't, then I'm fine with taking our time to plan a wedding and have our boy be there."
Of the reaction to their cheeky announcement, Diesen says they never expected the photo to spread so far, but it's all good. "We were in shock and still are! Super thankful for the positive support and comments."
This article was originally published on