This Mom's Real AF Parenting Cartoons Will Make You Feel So Seen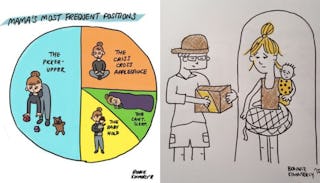 Image via Bonnie Kimmerly
Drawing about parenting is therapeutic for Bonnie Kimmerly, and looking at her drawings is therapeutic for us
Bonnie Kimmerly has always liked art, but she only returned to the pastime after the birth of her first kid, when she was in need of a creative outlet and some way to process all the big changes that come with parenthood. What started as simple sketches with a pencil has evolved as her kids have grown (she's now mom to two young boys), and now her Instagram and Facebook accounts are a treasure trove of laughs (and small sweet moments) chronicling her family's day-to-day life.
Her very first cartoons were pretty simple – but they captured moments in parenthood that almost any mom or dad could identify with.
"I doodled a ton when I was younger and always had a soft spot for drawing," she tells Scary Mommy. "But it wasn't until I had my first kid and was off work that I started consistently drawing again. It is a great creative outlet for me and I enjoy expressing myself in pictures."
As her drawings have evolved, she's gone digital and become more comfortable with her talents, creating colorful, sometimes multi-paneled cartoons about all things child-rearing, from the most choke-able Lego pieces, to the most annoying PBS Kids characters, to how we really Netflix and chill these days.
When does she find the time to draw?
"Usually I try to carve out time for myself when the kids are napping or sleeping," she says. "Other times I just start drawing on the floor while everyone is playing happily around me. Some days I don't get around to it at all. Every day is different."
Many of her cartoons air her moments of frustration and fatigue – and she finds drawing about her feelings is a good way to release those tough moments.
"The process of drawing helps me decompress and in that way I think it does help me be a better parent," she explains.
At the same time, though, it's a way to reach out to other people who might be feeling the same way.
"There are parent friends, relatives, and other parents that see my drawings online and say that they can relate to them. I love that these experiences that I'm drawing about are translatable across the world."
But not all of her comics are hilarious or have punchlines – some just capture little moments in motherhood that many of us can identify with, like quiet late-night feedings for infants by the glow of a nightlight.
Here are more of Kimmerly's cartoons – for a few more laughs.
As for where she wants her path to lead, Kimmerly puts motherhood ahead of her dreams of making it big as a cartoonist – although ruling at both wouldn't be a bad thing.
"First and foremost is for the kids to grow up into happy, healthy, and well-adjusted individuals," she says. "It also wouldn't hurt if I got to continue honing my craft and one day had my cartoons amalgamated and published in book format!"
You can followe Bonnie Kimmerly and see more of her on-point parenting cartoons on Facebook or Instagram.
This article was originally published on