Parenting Children With Complex Challenges Can Be Tough. Here's How To Make It Easier.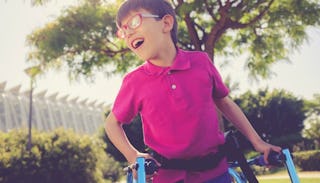 sweetmonster / Shutterstock
I thought she might like ballet.
When my daughter Pearl was newly born, a skinny little cherub with the prettiest brown eyes you've ever seen, I imagined her whole life right from our hospital room. Her tentative first steps, her first pair of ballet slippers (or hey, maybe cleats — maybe soccer would be her thing!), her first daddy-daughter dance.
I saw it all so clearly, which made it even more painful when those predictions, those idyllic yearnings, were clouded by reality.
At 6 weeks old, Pearl suffered a hypoxic stroke that resulted in a brain injury. It left her with cerebral palsy, and as we would later learn, ADHD, anxiety, and learning disabilities.
I remember the helplessness of that time, the personal sadness of letting go of those fantasies.
But here's the thing: I didn't have to let them go.
If I could go back to that hospital room, now seven years ago, I would tell myself that those future predictions aren't baseless; they're just different. That I didn't need to give them up; I needed to shift them. That I had to let my child shape her own reality.
Because guess what: Pearl does love ballet. And her skills? They've been watched by millions.
As both a parent to a child with significant disabilities and the head of a school for children with complex challenges, I often speak with parents about how difficult it can be to connect with their children and reshape dreams of Little League, fishing trips, cookouts, and camping. Children with these types of challenges often have repetitive routines, limited vocabulary, and a restricted range of interests, which can be frustrating to many parents. (Really, you can only talk to your kid for so long about Pokémon cards, I get it.)
So what is a parent to do? How can you connect with your child with complex challenges when you're trying to form your new sense of reality? Here's the advice I always share:
First, follow your child's lead.
One of my students, Jermaine, and his father both love football. While Jermaine's father may not be able to tell you every player's name and statistic the way Jermaine can, the two truly enjoy sitting together and watching the games on Sunday afternoon.
The important thing is to help your child find and follow their interests, whether it's watching football games, collecting Matchbox cars, analyzing the connectivity of all the Star Wars movies, or training hounds to hunt.
(Those are all real examples, if you are wondering. The hound-hunting dad spent a long time telling me how to train a hound to fox hunt before I stopped to ask how he knew all this stuff. It turns out his son has a gift for training dogs, and now this is what they do together. And don't worry, these modern-day fox hunters seek out foxes to give them much-needed heartworm medicine, not take their lives.)
The point is, if you follow your child's lead and explore their interests, you never know where it may take you and what you may learn. It may force you out of your comfortable place, but you never know where your child's hound-hunting passion will come from.
Next, find a place to start.
When I taught writing classes, I would tell my students with writer's block to "just start" — because nothing you do is as hard as beginning. This is the same advice I now give to parents who want to connect with their children on a deeper level. Just start. Nothing you do will be as hard as beginning.
You cannot, however, start where you want. You have to meet your children where they are. Sometimes it may be as simple as picking up a controller and joining a game of Minecraft. Other times, it may mean learning to train a hound. Wherever your journey takes you, travel it together, and remember to have fun.
Finally, embrace the everyday moment.
Everyday life is a bonding experience when done together, so become more involved in the day-to-day, mundane moments. Read together at bedtime. Prepare a meal with your child (even if it's ice cream for lunch). Help with homework. Teach them to tie their shoes. Take them to pick out a new bicycle.
By spending time together and helping your child through daily activities, you can form deeper trust and connection over time. This takes time and persistence, but eventually you will be amazed at how good it feels and how close you become with your child.
These are three simple ways for parents to connect with their children with complex challenges, but really, it all depends on your child and their unique situation. If you let your child take the lead, there's no telling the connections you will find.