There's A Last Time For Everything With Kids — But If You Blink, You'll Miss It
by Wendy Wisner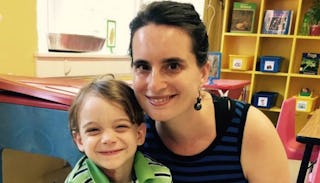 Wendy Wisner
My 4-year-old started pre-K this past September. I was kind of a wreck in the weeks leading up to it. He's my youngest child, my last child, and as much as I knew he would enjoy "big boy" school, my heart broke at the idea of leaving him.
By some miracle, though, we made it through the first few weeks of school pretty much unscathed. There were no tears from me or from him. Honestly, I was worried much more about my own tears than his; I'm usually an emotional basket case.
But this morning, almost two months into school, it hit me.
I had dropped my little guy off at pre-K, and on my way home, I stopped by my older son's elementary school, which is right next door. I lingered in front for a bit, watching the kids line up and head into school. It was something I had done many times before, standing there with a few other moms, chatting.
"Where's the little guy?" asked a mom I hadn't seen for a while.
"Oh, he's in pre-K now," I said.
"Wow, that went fast," the mom said. "I remember when you used to bring him here all wrapped up in a baby carrier."
I looked down, half expecting to see my little guy standing there right next to me. Instead, I felt his absence.
And that's when I broke.
I walked home, trying to hold back the tears that hadn't come for the two months. I failed miserably, sobbing as I walked down the block, past the train station, and down the steps to my house.
For four years, I had walked home from elementary school drop-off with my little guy in tow. When he was a baby, I'd strap him into a baby carrier, cuddling him as we walked home, taking some good, long sniffs of his delicious baby hair. Sometimes he'd be screaming his head off, and I'd do that walk-bounce-step thing that all parents do when their baby fusses.
As he got older, we'd walk hand-in-hand — the five-minute walk often stretching into 15 minutes. Toddlers don't just walk. They stop to pick up rocks from the side of the road. They jump in rain puddles. Often, they annoy the heck out of you because they simply will not get from point A to point B in a reasonable amount of time, and you end up picking them up and dragging them home, kicking and screaming.
Other times, you marvel at how beautiful it is to watch the small human that you made squatting on the sidewalk, lips pursed as he carefully watches a caterpillar inch across.
I remembered it all as I was walking, and the thing that broke my heart the most was that I couldn't remember our last walk home together.
I just couldn't.
Had I thought of it then — that this would be the last time it was just us, dropping his big brother off at school, headed into our morning together? Why hadn't I made a note of it, tried to appreciate it in some way?
That's the thing about raising kids. You do something every day for what seems like forever, but one day it ends. It just does. Everything has to end. Sometimes you realize it and try to commemorate it in some way. Sometimes you forget to. But usually, you don't even know when that last time will be.
Every night for the longest time, my older son fell asleep holding my hand. But then it stopped one day, and I don't remember when. I can't pinpoint that last time.
My younger son used to do this thing where he'd pull on my lips while nursing — every single time. It drove me totally crazy, but it was his little ritual, and it was affectionate and beautiful to me. It fizzled out so gradually I don't remember the last time he did it; I only know that it stopped.
Oh, there are so many things like that, a million things. There are things you did a million times with your kids that you could never imagine ending — little tiny things that didn't even hold much significance until they were over.
You might have wondered how on earth your newborns would every sleep anywhere but directly on your chest. You might have been certain your kids would never stop nursing, drinking from a bottle, or sucking on a paci.
Maybe you thought it was impossible that they'd ever stop needing to be carried everywhere, or waking up for reassurance in the middle of the night.
There must have been a last time that I carried one of my babies on my hips, their little legs wrapped around me so perfectly.
When was the last time I lifted a sweet, sleepy body out of a car seat, shushing and praying he'd stay asleep as I walked inside?
You can't know when the last time will be, but there always will be one.
I try my best to savor all the moments I can with my kids, but I can't possibly do it all the time. Much of the time, the tasks I do feel draining, difficult, and annoyingly repetitive — even if they are beautiful and meaningful in retrospect.
I guess you don't know what you'll miss until it's over. I've grown to accept that about parenting — about life in general. But it still destroys me, shatters my heart into a million pieces.
My only solace today is that there might be a day soon when my little guy is a little under the weather and stays home from school, or maybe pre-K will be canceled, or we'll just play hooky. Perhaps one day soon, I'll get a last chance to walk home with him after dropping his big brother off at school.
But even then, it won't be the same.
I guess there's nothing we can do but accept that we won't be able to notice all the lasts and that our kids' childhood will fly past us faster than we can keep up with. And maybe all we can do is take some deep breaths and try our best to savor the moments that we're living right now with our kids.
[free_ebook]