Motivating My Kids With One Phrase And A Camera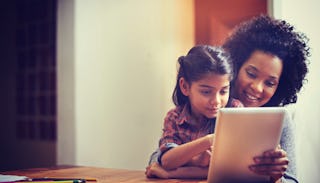 PeopleImages / iStock
I'll never forget a fifth-grade student who I had seven or eight years ago. He was incredibly smart, academic and motivated, but challenged by any task that required him to be creative. He'd walk into art class and shut down. I tried everything to engage him more during art. Nothing worked.
And then one day, I was walking around the art room and noticed something was different for him. He was immersed, creatively constructing his piece, working out of his comfort zone, without rules or a specific purpose. I was so proud of him and knew his family would love to see his work, so I said, "Can I take a picture of this?" He beamed. "I'd love to send a picture to your mom so she can see your work right now. Can I take a picture of your artwork?" He said yes. I took the picture, emailing it to his mom while he watched.
I didn't expect that little phrase and the act of taking a picture of his work to make any impact at all, but it did. This student continued to produce amazing projects during art class, growing into one of the most diligent, productive, creative artists I've ever seen.
I used this strategy regularly over the next few years in the classroom.
When a student would choose to stay in during recess to finish schoolwork she was really excited about, I'd ask, "Can I take a picture of this? Your dad won't believe how dedicated you are to finishing this project."
Or when my normally disorganized, messy, disheveled student would organize and tidy his desk, "Can I take a picture of this?" I'd say. "I want your grandma to see how your desk is going to look from now on."
The phrase "Can I take a picture of this?" accidentally became one of the most powerful tricks in my pocket. I didn't use it every day. I only used it when I was truly, genuinely, overcome with pride by a student's accomplishment and wanted to capture the moment. However, when I used this phrase, I saw that it made a huge impact on my kids. Their motivation, performance and confidence increased.
So why didn't I realize I could also use this phrase as a parenting strategy? I'm not really sure. But then it hit me a few months ago.
I walked into my son Ash's bedroom, and he had picked out his clothes and gotten dressed all by himself—a pretty big deal since the simple act of getting dressed had become a daily battle for us. He looked so adorable and proud of himself, with his inside-out socks and backwards sweatpants, and I was so proud of him for being independent. I walked into his room and immediately blurted out, "Oh sweetie, you look so handsome! Can I take your picture?" He beamed. He adjusted his shirt and fixed his pant leg. He said yes. And I took his picture.
Since then he's picked out his clothes and gotten dressed on his own nearly every day. I don't think it's a coincidence. I think that the simple act of me taking his picture was motivation enough to change his behavior, just like it was for my students years ago.
So I tried it again.
Ash is obsessed with animals. He loves pretending to be them, talking about them, reading about them, and learning about them. Lately I've been feeling like our home and his play need a little variety. I wish that we could just put away the animals and build a tower with blocks every now and then.
So one day I sat down with my kids and we started to build with blocks. Ash was pretty reluctant—not so sure that this involved animals enough for him. But he played along with me for a little bit. While we were playing, I had to answer a quick phone call, and Ash continued building. I was so immersed in my call that I wasn't watching his construction closely, but once I got off of the phone and glanced back, I saw it—a huge tower built with the magnetic blocks he rarely plays with, his animals on the other side of the room.
I was off the phone by this time and ran over to Ash, asking him to describe the tower he had constructed. He talked about the house he had built—the roof, the windows, the doors, the walls.
In the middle of his description, I couldn't contain my pride any longer. I interrupted him, "Can I take a picture of this?" He beamed. "Can I take a picture? Can I send it to Daddy? I just can't believe you did this on your own!"
He said yes. I took a picture. I sent it to daddy. And he's built a tower every day since.
I look at my children every day in awe of the people that they are becoming. They make me so proud. But in the craziness of the day—the laundry and dishes, the running to school and back, the naps and meals, the tantrums and chores, the disagreements and battles—sometimes I don't tell them how proud I am when I need to.
The phrase "Can I take a picture of this?" has changed my parenting.
I see how this simple phrase and the act of taking a picture, sometimes sending this picture to close friends or family, is incredibly motivational for my kids. It makes sense. When something happens in my life that I am incredibly proud of, I share it. I share the news with my closest friends and my family, with those who I know will support me. So why shouldn't they want the same thing?
Sometimes I use this phrase and take a picture of my kids when they've accomplished something pretty huge and monumental in our house. And sometimes I take a picture of something that is just a small step toward where we want to go. But the phrase, "Can I take a picture of this?" and my camera have become a tool for me to show my kids how proud I am of them, to reward them for their growth, to make sure they keep making these strides, allowing them to share their successes with others.
We've taken pictures of made beds, quiet moments reading, moments sharing a favorite toy with a friend, dishes brought to the sink, helpful acts, carefully constructed art work, and more. We've sent these pictures to daddy, printed them out, hung them up, talking about them for days to come.
And these pictures, these moments captured by my cell phone's camera, have changed the tone in our home. This one phrase has reminded me to tell my kids when I am proud of them and to capture the everyday little things that are actually big, important moments in my kids' lives where they are growing and learning. With each picture I take, my kids get a jolt of confidence, a renewed motivation, a sense of joy and pride in themselves.
As I look back on my phone's camera roll over the past few months, I see a timeline of growth, a record of my children's successes and moments of pride. I see the little moments that may have been overlooked, would have been forgotten, may not have been reinforced, if it were not for my new favorite phrase and my cell phone camera.
This article was originally published on