After The Death Of My Brother, I'm Learning How To Parent Through Immense Grief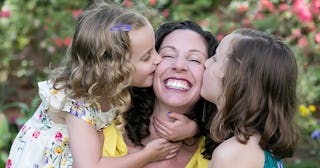 Courtesy of Karen Taylor Peloquin
Trigger warning: suicide
"Mom, can we go build a snowman?"
That's a pretty typical question from a child to her mother after a big snowfall, especially in Apex, North Carolina where snow is rare… but what wasn't so typical was that I, as the mother, had just told my daughter (age 4, almost 5, at the time) that her uncle, my beloved brother, had died.
My brother, David, had been missing in Portland, Oregon for several days after Christmas in 2016. My family and I had become worried after not being able to get a hold of him for six days. Eventually, we received the most shocking and horrific news, that David had died by suicide.
After researching how to talk to your child about a loved one dieing by suicide, my husband and I explained to our eldest daughter that David had died because his brain was sick. We did our best to answer her questions with answers that we felt were developmentally appropriate all while we cried together.
My world stopped that day… but my daughter's world did not. So we built that snowman.
"To be a good mother while my heart was breaking was one of the hardest roles I've ever had to play." — Word Porn
It's quite amazing how resilient children can be during difficult situations. One minute to be sobbing in sadness and confusion to the next minute wanting to go build a snowman. It's also quite amazing how mothers mother their children during difficult times. It becomes a dance of ebb and flow… back and forth with emotions for both the mother and the child. Whatever financial problems, marital problems, family/friendship problems, grief and just the hardships life can bring in general, we as mothers still try to power through to meet our children's needs. We also try to muster up the energy to provide as much love as we can give to our children even through the darkest of times.
So how do we as moms find the strength to handle our own emotions in addition to our children's emotions during difficult times? Well, I don't know the perfect answer because I struggle with this often… but here is what I've learned.
One Day at a Time
It is more than OK to have your good days, bad days, and in between days as a mom, especially during a difficult stage in your life. Just like it's OK for your children to have good days, bad days, and in between days in their life. It's OK to take our superhero parent cape off and remember we are human, and things are not always going to be perfect. Life is a marathon, not a sprint, and sometimes things just take time. Release the anxiety and remember you are doing all that you can in this very minute on this very day… and always keep hope that tomorrow is a new day.
Balance the Child's Resilience With Your Self-Care
As amazing as it is for a child to be so resilient during difficult times, it can also be very exhausting for the mother who is the one enduring the difficult times head on. The last thing I wanted to do after telling my daughter about my brother dying was to build a snowman, but deep down, I knew I needed to do that for her. Perhaps we can learn a thing or two on how to be resilient like a child, but in the meantime, if you're going through something pretty serious, be sure to take the time to take care of yourself so that you can keep up with the ever-evolving emotions of your child… and know that you are not alone.
Children Learn What They See
One day during a counseling session, I told my counselor I was really worried that I wasn't being a good mom to my daughters because I just felt so down and was crying often. I was worried that my girls were going to suffer. She told me that perhaps they were learning something that couldn't actually be taught — they were learning empathy and compassion because they could see someone hurting and they wanted to help. They were learning that sometimes life doesn't go the way you thought it would, and it's OK to have emotions and be genuine with how you are feeling. They were learning that it was OK to have "high highs" and "low lows" because that showed you were trying with all of your might to make progress.
A Cup of Tea Solves Everything
Oh, how lovely this would be if it was literally true… but it is true, in a figurative sense, especially for a child, but even for us as mothers. Often small things for a child end up meaning the most to them and small actions can most often make their day. It's quality, not quantity. Sometimes when we're in difficult situations, we just want to cross XYZ off our lists of things to do, or we want to hibernate and detach from the world, and we tend to lose track of what's really important. I've found that as soon as I put down my list, tucked away my problems, put down my phone and just spend even as simple as five minutes engaging with my child, problems seem to melt a way. Never all the way, but just enough to see clearly that being a mom is all about being a mom to the child who is sitting with you.
The ebb and flow dance of mother and child is quite possibly the most beautiful dance in all of the land. The love that it takes for each partner to communicate, listen, guide, heal and lead is admirable. Some days will be better than others, but life will always be a dance so let us foster the best dance partners by being the best moms we can be.
This article was originally published on