10 Fun One-Year-Old Birthday Party Ideas For Your Newly Dubbed Toddler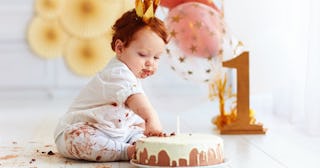 olesiabilkei/ Getty Images
Congratulations! You made it through the first year with your baby. That was way harder than you thought, huh? Everyone thinks that once they start moving and holding their heads up, that it becomes easier. Ha! Then they start crawling off the play mat to eat stray bobby pins, playing with the electrical socket covers and attempting to leap from your arms for no apparent reason. Are you exhausted? You should be. And yet… you want to plan a party and get those smash cake photos. You made it to that critical first birthday and you want everyone to celebrate that precious baby and your hard work. Do it — you both deserve to be celebrated. We're here to help with some super cute theme ideas.
Mr./Ms. One-derful
Picture it: Bow ties, sparkles, lots of number ones floating around. Your bouncing baby boy or girl is wonderful, right? Why not play it up?
Wild One
If you've read the Sendak classic, "Where The Wild Things Are" then you've no doubt repeated a million times, "I'll eat you up, I love you so!" Why not celebrate your wild one with a Wild Things-themed fete? The Best part: Your little king or queen of the wild things gets to wear a crown. You most definitely have to have guests practice gnashing their terrible teeth.
Winter One-derland
Got yourself a winter baby? Soon enough, they'll be picking their own themes. Enjoy your chance to throw an elegant and sophisticated wintry party while under the guise of celebrating your babe. Think fur, fir trees, and the sparkly of fake snow.
Alice In One-derland
Another party that might be more about Mama or Dada than baby, but still playing on the "one" theme. You can dive as deep into Wonderland as possible, making it all the more fantastical for your toddler and their friends/family.
Very Hungry Caterpillar
While this doesn't exactly play on the "one" theme, it's still loads of fun for your tiny tot. Eric Carle's classic not only served up a science lesson, but it delivered bold, bright colors. Plus, the caterpillar-to-butterfly transition is pretty metaphorical for what it's like to watch your baby grow and change during that first year.
Rookie of the Year
Gotta little slugger in the family? This is a great way to pay tribute to the newest member of the family. After all, that makes him or her a rookie, right? And if the birthday is during baseball season, that's even better, right?
Nuts For Donuts
"Donuts?" you ask. Why, yes! After all, what is a donut if not a very be "O" to start off the word "one." Donuts, even the ones from that funky bakery down town, are often cheaper than cakes. They make great take-home presents for party-goers. Plus, they're surprisingly customizable. Also, they're donuts.
Our First Rodeo
Perfect for first time parents, the "first rodeo" theme celebrates your journey just as much as it celebrates your little cowboy or cowgirl. You can make this really hokey and fun, which is exactly what a kid's birthday party should be.
One in a Melon
Have a summer girl on your hands? With some summer-y colored streamers and a few melon-themed cutouts, the decor is pretty much set for this low-key jam. As the name suggests, you're still honoring that one-in-a-million little tyke but you're doing it with something as simple as a cook out. As long as you serve some watermelon slices (and maybe some drunken melon ball salad for the grown ups), you're still on-theme.
One Is Fun
As previously mentioned, we know life is pretty overwhelming right now. This theme is probably the easiest one to pull off, as it requires the least amount of "themed" thinking. Red plastic cups on sale this week? Got leftover orange balloons from the last party you threw? Looks like you've got your color scheme. Make your toddler's favorite food. Have a sibling craft up a "One is Fun" sign. Bam! You're done.
https://www.instagram.com/p/B2-g2RfgSQZ/?utm_source=ig_web_button_share_sheet
Related: 10 Two-Tally Cute Birthday Party Themes For Your Sweet Two Year Old
This article was originally published on