10 Reasons Kids Are Not Welcome Here
by Love Barnett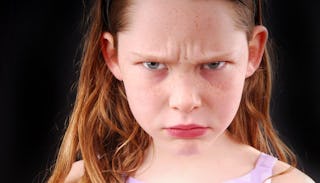 Not everyone likes kids. And not everyone who does like children likes all kids. But for the sake of our grown-up relationships with those kids' parents, and for the sake of our kids' friendships with the aforementioned little monsters, sometimes we put up with a tiny bit more than we'd rather. Where do YOU draw the line? How bad does a kid have to be, before they are forevermore banned from your house, and damn the consequences? As for me, our house is the block's fun house, and there are a gajillion kids here all the time. I totally don't mind. In fact, I pretty much love it. But it's not always kittens and rainbows, and sometimes, it can get downright nasty. Ten reasons to burn the welcome mat at our house are:
1. Screaming, shrieking tantrums. Sorry, Charlie. My own kids don't get away with that shit. I'm sure as hell not catering to you while you proceed to make Linda Blair look like an amateur. We have enough crazy here to deal with already; there's no need to borrow more. If there's a known issue, of course there are exceptions that we learn to adapt to, but if your super special issue is that you're a spoiled brat who uses tantrums to get your way, you can scream and wail and stomp your feet all the way back to your mom's house.
2. Hitting, kicking, spitting, biting, pushing, throwing/breaking things, and swearing. See #1. I'll warn you ONCE. And only once. After that, it's Bye Bye Birdie, and don't make me out to be the bad guy when your mom gets here to pick you up. My house, my rules. I prefer for my kids to feel safe and comfortable in their own home, not terrorized and threatened by a peer, thanks anyway.
3. Being mean to family pets. Now, if we're talking about a toddler or up to, say, around 6ish…then maaaaaybe shaving the poodle or trying to bathe the cat in the toilet might get a pass. There's no reason for a little kid to associate hair cuts or bath time with trauma or torture, right? But old enough to know better—oh hell no. And trying to hang the puppy by his neck, or tossing baby kittens into the lake? SoMuchNOPE. Those kids need help, but they aren't going to get it at my house. Go away, and stay away. And tell your mom to expect a visit from child services, because I report psychotic behavior like that.
4. Stealing and destroying property. Kids break shit. This we know. And accidents happen. But when they mysteriously only happen when you're here, and EVERY time you're here, we're going to have a problem. Also? Our kids share. They LOVE to share. If you ask to borrow it, they'd be glad to give you the shirt off their backs. But don't take things home with you without asking, and then deny where it came from. Honey, that's not sharing; that's stealing, and we're not playing that game. We're not stupid, and I don't remember ever agreeing to personally finance your addiction to Xbox games or Pokemon cards. Keep your sticky fingers to yourself, or I can just invoice your parents for the cost of everything you stole and/or broke and we'll see if you can swing a five-finger discount with them.
5. Setting shit on fire. No. Just…no.
6. Failure to overcome separation anxiety, and failure to inform US of this. Now look. I know sometimes those first sleepovers can be hard. Sometimes even traumatic for some kids. But if you consistently BEG to spend the night here, and also consistently decide around 2 or 3 a.m. that you need your mommy to come pick you up…Every.Single.Time… you may need to wait a few more years before you get to try this again. I don't want to be a meanie, but we just can't keep doing this. And parents of these kids: if you KNOW that this happens all the time, but fail to mention that it might be a problem because you "just thought it might go differently at your house"? Oh honey. Don't be that parent.
7. Lice and/or bedbugs. This is more of a parenting thing than a fault of the kids, but regardless. It's nobody's fault, and we've dealt with lice before and probably will have to again. My issue is the knowing, and the not telling. A heads-up costs you nothing. If you bring either of those nasty critters over here knowingly and don't tell me? Banning will be the least of your worries. Do you even KNOW how much it costs to get completely rid of bedbugs?? What kind of sick freak knowingly inflicts that on anybody, especially your kids' friends? Quarantine that shit and handle your business. And then maybe we can meet for a playdate at the park in a year or two. And P.S.: I am very sorry for that creepy-crawly feeling that you are all having right fucking now, but it had to be said.
8. Getting aggressively religious OR anti-religious in my house. I love when kids have a good enough sense of self to start talking about their faith. I really do. But if you flip crazy evangelical and start telling my kids that they are "going to burn in hell" or some such nonsense for watching Spongebob, you can holy roll your little butt back to Sunday school. Similarly, if you get up in my kid's face putting down their religious beliefs or worse, demeaning the way we choose to celebrate our holidays or whatever, you're going to be persona non grata until you learn some manners. Respect is this sweet new thing all the cool kids are doing. You should totally try it sometime.
9. Persistently engaging in risky behavior. Soooooo your mom said you got suspended for drinking at school, and I let that go and OK'ed my teens having you over anyway. Everybody makes mistakes, right? But then I caught you smoking weed out in my garage a week later. I'm glad you feel like this is your safe place… I think? But erm, nooo. I don't have enough cash on hand to pay my bail when I get carted off for contributing to your delinquency.
10. Failure to GTFO. Generally, when the kids have friends over, there's at least a vague plan for when it's time for them to go home. Sometimes that's in a few hours; sometimes it's overnight; hell, sometimes it's a few days! But there's generally a plan at least, and an expectation, or at least a conversation. Now, being a few minutes late, I get. I'm always late. Always. It's a flaw. But "running late" does NOT mean eight hours after your mom said she was coming to get you. (Seriously, that happened one time. Mom just didn't come back until the next day! She got "busy" and made "plans" and figured it would be "fine" so she never even called.) We've also had teenage visitors (in the summer) who just showed up out of the blue some mornings and hung out ALL FREAKING DAY and we practically had to shove them out the front door sometime around midnight so that we could go to bed. (Where do your parents think you are right now??) If you continuously overstay your welcome, then that welcome gets weaker and weaker until eventually, there's not one. Or let's try this: You know what happens to milk after its expiration date? Yeah, now multiply that times, ooooh say, 3 weeks. Now take a big whiff. Smell that? Yeah, THAT. Don't do that. Don't linger past your expiration date. For the love of all things holy, GO HOME.
Related post: 50 Ways Other People's Kids Suck
This article was originally published on